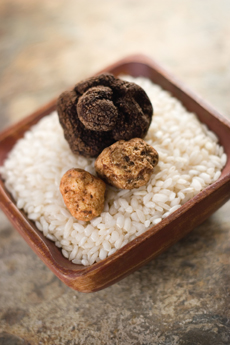 Costlier than gold: the Périgord truffle of France and the white Alba truffle of the Piedmont, in Italy. Photos by Kelly Cline | IST.
KAREN HOCHMAN is Editorial Director of THE NIBBLE.
December 2006
Updated January 2009

Truffles: An Overview & Glossary
Page 7: Chinese & Oregon Black Truffles

This is Page 7 of a 12-page article. Click on the black links below to visit other pages.
Truffle Glossary: Other Black Truffles
Chinese Black Truffle (Tuber sinensis, a.k.a. Tuber himalayensis and Tuber indicum). These truffles look exactly like Tuber melanosporum, the Périgord truffle. Unfortunately, they taste nothing like them—they are cheap truffles that have no more value than a typical wild mushroom (in fact, there is no record of culinary use in China, where they are used medicinally). However, if they are left to rest with authentic Périgord truffles, they will take on their aroma, and can be sold to unwitting buyers for the same sky-high prices. Alas, the texture and flavor are merely those of a mushroom. Chinese truffles are the topic of truffle fraud: They are imported and deliberately doctored, through the transfer of aroma and sometimes artificial coloring, to pass as Tuber melanosporum, the Périgord truffles. This is why you should only buy truffles from trusted purveyors.
Oregon Truffle (Black & White). Both black truffles (Leucangium carthusiana) and white truffles (Tuber oregonense and Tuber gibbosum,* formerly known as Tuber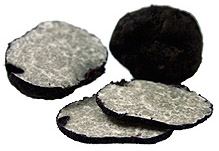 gigantum) are found in the Pacific Northwest, from Vancouver Island, British Columbia, to northern California. Oregon has a large concentration of them, often found in the Douglas Fir forests of the Willamette Valley. The season is November through March. The black truffle has a dark brown exterior and a white glebe when unripe; it matures to a dark brown glebe with white veins. The white truffle has a tan exterior and a white glebe that matures to a taupe color with white veining. Oregon truffles have a pungent scent (less so then Périgord truffles) that dissipates with heat, so black and white both must be treated with the same care as Italian white truffles—shaved raw over food, never cooked. The black truffles have They have a pungent, earthy truffle aroma with notes of pineapple, and a strong truffle flavor that has made them popular with chefs in the region. Photo of Oregon black truffles courtesy of MarxFoods.com.
*These are actually the same species; Oregonense fruits in the winter, gibbosum fruits in the spring.
Continue To Page 8: Truffle Glossary ~ White Truffles
© Copyright 2005-2014 Lifestyle Direct, Inc. All rights reserved. Images are the copyright of their respective owners.