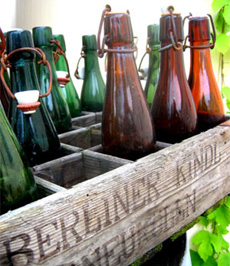 Artisanal German beers. Photo courtesy Jennifer Iserloh, SkinnyChef.com.


Craft Beer, Microbrews & Premium
Beer
...Plus Hard Cider
Bravo to the microbrew! Since the American microbrew movement started in the Bay Area in the early 1980's, we've been blessed with great brews—and brewpubs—from coast to coast. We can still enjoy the great Belgian, German, and Czech imports that cross our paths too.
While there are wonderful websites that focus only on beer (you'll find links to some of them in our Favorite Beer Links section), we will review occasional microbrews that are just to special for us to ignore. Craft beers pair well with fine food (even with chocolate).
The history of beer goes back at least 10,000 years, to Mesopotamia. Anthropologists believe that man first went from a hunter-gatherer existence to an agrarian culture to be able to grow grain for beer. Later, the Bavarians added the aromatic and bitter hops. Beer is the number-one-selling beverage in the world. In the U.S., it outsells wine and liquor by 2-1/2 to 1. More than 100 different styles of beer are made in the U.S. If you'd like to tell us about your favorite craft beer, please send us a note.
See the Snacks Section for tidbits to go with your beer.
Nibble Tip

Tortellini and cheese kabobs are a different twist on a party favorite—and go great with beer. Marinate cheese and/or spinach tortellini in vinaigrette or bottled Italian dressing and alternate with cubed ham, salami, cheese (mini mozzarella balls are fun) and chunks of bell peppers.

Copyright © 1995 Land O'Lakes, Inc.

Beer-Lover's Reading List

| | | |
| --- | --- | --- |
| | | |
| Cooking with Beer: 160 pages of taste-tempting creative recipes for matching beer and food. Out of print, but copies remain at bargain prices. Click here for more information or to purchase. | Michael Jackson's Great Beer Guide. The flavor and body of each beer, why beers taste the way they do, ideal serving temperature and glassware for every style. Click here for more information or to purchase. | Ultimate Beer, by Michael Jackson. An exploration of a myriad of beers from every corner of the brewing world. Click here for more information or to purchase or to purchase. |
© Copyright 2005-2015 Lifestyle Direct, Inc. All rights reserved. Photographs are copyright their respective owners.