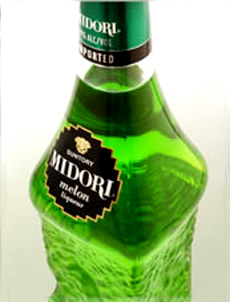 Not exactly from the Emerald Isle—but a lovely shade of emerald.

Green Cocktail Recipes With Midori® Melon Liqueur
Enjoy The "Drinking O' The Green" With Some Cross-Cultural Mixology
Midori Melon Liqueur is delicious, and deliciously green when you need a celebratory green cocktail.
Developed by Suntory*, the liqueur was launched in the United States in 1978 at a monster party at Studio 54 (then the world's most famous nightclub) attended by the stars of that year's hot movie, Saturday Night Fever, including the young John Travolta. Almost 30 years later, Midori has proved its staying (alive) power.
*In addition to Suntory Beer, the company owns Ballantine's, Jack Daniel's, The Macallan, Glenfiddich, Kahlùa, Campari, Bordeaux's Château Beychevelle and numerous other beer, sake, wine and spirit brands.
To enjoy a green Champagne for St. Patrick's Day, add a 1/2 ounce of Midori to the bottom of a Champagne flute and pour the Champagne on top. Don't stir—it breaks the bubbles.
Midori Cosmopolitan

Ingredients Per Cocktail

Directions

Shake and strain into a chilled glass.
Add an optional curly lime peel garnish.


Midori Cosmopolitan:

The famous pink cosmo goes green for St. Patrick's Day.
Midori Lagoon

Ingredients

½ part Midori

¾ part classic golden rum

½ part fresh orange juice

Curled lime peel to garnish

Instructions




Midori Lagoon.
Midori Melon Bomb


Ingredients

Directions




Midori Melon Bomb.
Midori Sour

Ingredients

1 part Midori

4 parts sour mix

Garnish with melon balls

Directions

Serve in a rocks glass over ice.




Midori Sour.
Q. F. Shooter

Ingredients

Directions

Layer, pouring the Midori in first. The liqueur will float on the top.





Q. F. Shooter.
© Copyright 2005- 2015 Lifestyle Direct, Inc. All rights reserved. Images are the copyright of their respective owners.