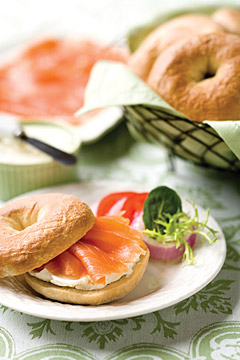 A favorite way to enjoy smoked salmon of any kind: on a bagel. Photo courtesy MackenzieLtd.com.
KAREN HOCHMAN is Editorial Director of THE NIBBLE.
March 2007
Updated March 2009

The Different Types Of Smoked Salmon
Page 2: Cold Smoked Salmon vs. Hot Smoked Salmon
This is Page 2 of a four-page article. Click on the black links below to visit other pages.
Cold Smoked Versus Hot Smoked Salmon
Our main focus is cold smoked salmon, the category of translucent, non-cooked fish. When looking at packages, especially online, it's easy to confuse cold smoked with hot smoked salmons. Sellers often don't distinguish between the two in their descriptive copy. You may think you're ordering cold smoked salmon, expecting a Nova Scotia or Scottish salmon, only to receive hot smoked salmon. While hot smoked is delicious, it's quite different from cold smoked.
*With both processes, the length of time and degree of temperature depend on the size of the fish, how close it is to the source of smoke and the degree of flavor desired.
Continue To Page 3: Cold Smoked Salmon
© Copyright 2005-2015 Lifestyle Direct, Inc. All rights reserved. Images are the copyright of their individual owners.