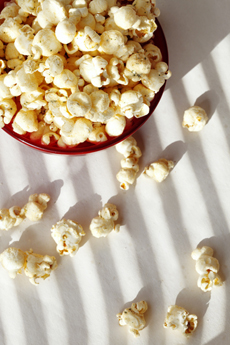 We love the pepper-flavored popcorn from Doc Popcorn. Photo by Katharine Pollak | THE NIBBLE.
MELODY LAN is a member of THE NIBBLE editorial staff.
July 2006
Last Updated April 2013

Types Of Flavored Popcorn
The History Of Popcorn ~ Page 4
Flavored Popcorn
From boardwalk popcorn shops and the rise of malls, popcorn flavors proliferated. Today's popcorn lovers can enjoy much more beyond the basic plain, salted, buttered, caramel or kettle corn varieties.
Buttered Popcorn. The first and most popular, butter, or butter-flavored soy mixes, are the number-one favorite popcorn flavor.

Caramel Corn

(also called toffee popcorn) is popcorn covered in caramel or molasses and often contain nuts, like peanuts or almonds. Certain types of caramel corn are made with a white sugar-based caramel rather than the traditional brown sugar versions, for a lighter and more buttery flavor. The classic baseball stadium treat Cracker Jacks, sold in a box, is caramel corn with peanuts. Invented in 1896 for the Columbian World's Fair held in Chicago by F.W. and Louis Rueckheim, the name, a then-current term for "cool," was bestowed by a salesman. The inexpensive toy "prizes" for which the product is famous were added in 1912. (Note: Either our palates have improved or the product is made with less fine products than when we were a kid.)

Photo courtesy of PopcornPalace.com.

Cheese Corn. Popcorn flavored with cheddar, parmesan or other cheeses is a savory favorite. Hampton Popcorn Company offers both Cheddar and Parmesan cheese corn. Other companies offer spicy cheese corn.
Chocolate-Covered Popcorn, including milk, dark and white chocolate, peanut-butter-blended chocolate, Aztec (spicy) chocolate, and other variations including chocolate-caramel combines two or more of America's favorite snack flavors. (Read our article on chocolate-covered popcorn.)
Kettle Corn, a sweet-and-salty variety now made with granulated sugar, salt, and oil. A Colonial invention, the corn was popped in iron kettles and then sweetened with molasses or honey before adding salt. It is less sweet than caramel corn and appeals to those who like a sweet-and-salty profile.

Spicy Corn.

Garlic and jalapeño are two flavors that work well with corn. We buy them when we find them—and we like them. Barbecue-flavored corn, like Dale and Thomas's Sweet & Spicy BBQ is another favorite.

Photo of jalapeño popcorn courtesy of Popcorn Palace.

Wild Frontier of Flavors. There are popcorn companies out there that make almost anything—Pickle Popcorn, Banana Popcorn, Blueberry Popcorn, Cherry Popcorn, Peppermint Popcorn, Root Beer Popcorn and flavors that sound more like potato chips than popcorn, i.e., Salt and Vinegar Popcorn and Loaded Potato Popcorn. We'll try anything—we just haven't gotten around to them yet. If you get there before we do, let us know. One place to start: PopcornPalace.com, which has 27 flavors including Cookies & Cream, Grape and Ranch.
Continue To Page 5: Flavored Popcorn Recipes
© Copyright 2005- 2015 Lifestyle Direct, Inc. All rights reserved. Images are the copyright of their respective owners.