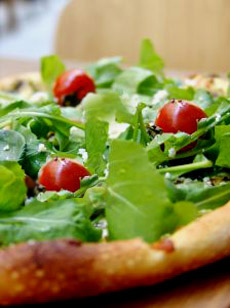 Combine a salad and a pizza in one. Photo courtesy SXC.
January 2010
Last Updated August 2010

Caesar Salad Recipes
Make A Caesar Salad Pizza!
CAPSULE REPORT: This is Page 4 of a four-page article about the Caesar salad. Here, you can top a pizza crust with one of America's favorite salads. Click on the black links below to visit other pages.
Caesar Salad Pizza Recipe
For a healthy veggie pizza, you can put a chopped Caesar salad on a pizza crust. Enjoy two of America's favorites—Caesar salad and pizza—in one dish. In addition to being delicious, it's a clever ploy to get people who avoid salad to eat it!
Ingredients

1 large prepared pizza crust (12 to 14 ounces)
2 tablespoons olive oil
1/2 cup grated Parmesan cheese
Pinch red pepper flakes
2 medium heads of Romaine,
chopped
1/2 cup cherry tomatoes, halved
1/2 cup shredded Parmesan cheese
Juice of 1/2 lemon
1/3 cup Cardini's Original Caesar Dressing
Optional: cubed chicken


Top a pizza crust with Caesar salad.

Photo courtesy CardinisSaladDressing.com.
Preparation
Pre-heat the oven to 400°F.

Place pizza crust on a baking sheet. Drizzle with olive oil and sprinkle with grated parmesan cheese and red pepper flakes. Bake the crust following the package directions.

While crust is baking, combine Cardini's Caesar Salad Dressing and lemon juice in a bowl. Add romaine to the dressing and toss.

Transfer salad to the baked crust, add cherry tomatoes and shredded cheese. Serve.
Prep Time: 20 minutes
Cook Time: 10 minutes
Recipe © 2008 Marzetti Kitchens. All rights reserved. Other material © Copyright 2005- 2015 Lifestyle Direct, Inc. All rights reserved. Images are the copyright of their respective owners.