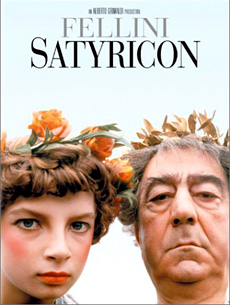 Featuring perhaps the most amazing and grotesque banquet scene ever filmed, plan to eat dinner before the scene appears (mid-movie).
Click here
to purchase the DVD.
July 2006
Last Updated March 2010

Comedies
We Laughed So Hard, We Spilled The Popcorn
Get out the popcorn, sit back, and enjoy our picks for the funniest food movies of all time. Be forewarned, you may be laughing too hard to eat for the next few days. Can't handle the hysterical laughing? Click here to explore other genres.

Click here to tell us about your favorite films or food scenes.
British Comedies

A Feast at Midnight

A British comedy about a social outcast who forms a secret society for cooking and feasting at midnight at his school. —Melissa Hom, TheNibble.com

Click here to purchase the DVD.

A Private Function

This film won a "Best Stimulator of Hunger" award at the 1997 Cinema and Food Retrospective Festival in Italy. Set in 1947 after the WWII in Britain while meat was still rationed, this satire depicts the devastation of a community when an illegally raised pig meant to honor the princess, is stolen.—Melissa Hom, TheNibble.com

Click here to purchase the DVD.

Life is Sweet

Wendy, Andy, and their twin daughters Natalie and Nicola, your typical, strangely endearing family, live out their family conflict and love on the screen. A bit of waitressing, cooking, procrastination, bulimia, unemployment, perkiness, and unhappiness are all mixed in, proving that perhaps the most eclectic families make for the sweetest ones.—Melissa Hom, TheNibble.com

Click here to purchase the DVD.

Tom Jones

Winner of four Academy Awards including best picture, director, screenplay, and music, this 1963 adaptation of Henry Fielding's classic novel is a rousing, bawdy comedy about a young man's ribald adventures in 18th-century England. Albert Finney is splendidly hilarious in the title role of a charming womanizer who was discovered as an abandoned infant in the bed of Squire Allworthy, a wealthy landowner who named the child Tom Jones and raised him as his own. As a young man, Tom yearns for the comely daughter (Susannah York) of a neighboring squire, but his amorous adventures (including an extended food orgy that becomes the film's funniest scene) lead him to London and to a duel with a jealous husband. He's sentenced to hang, but fate intervenes. A hit around the world, the film was expertly written by noted playwright John Osborne, and director Tony Richardson uses a variety of old-style movie techniques to heighten the lusty, good-natured fun. Don't miss this one!—Jeff Shannon, from Amazon.com

Click here to purchase the DVD.

Dark Humor & Cult Comedies

Attack of the Killer Tomatoes

Movies with "wacky" titles are almost never any good, and Attack of the Killer Tomatoes! was intentionally made to be an instant golden turkey. Despite that, and the grade-Z production values, this is a regularly funny film. You need to be a fan of the kind of low-budget horror movie it's spoofing, and you need to be very forgiving of the technical ineptness and frequent clunkers, but it works. The story? Well, tomatoes attack, basically. Jack Riley and the San Diego Chicken are in it, and that genuinely alarming helicopter crash you see in an early scene was a real accident. Seen now, the whole ratty affair brings back agreeable memories of the circa-1978 college-movie/midnight-cinema era, when seeing this film was virtually unavoidable. The sequel, The Return of the Killer Tomatoes! (with a young George Clooney), is actually an even funnier film. Director John De Bello would continue to squeeze the Tomatoes franchise for years to come."—Robert Horton, from Amazon.com

Click here to purchase the DVD.

Auntie Lee's Meat Pies

A woman sends her four seductive nieces to bring home boys to turn into ground meat.—Melissa Hom, TheNibble.com

Eating Raoul

You'd think a black comedy about murder, tackiness, and sexual perversion would quickly become dated, but Eating Raoul (1982) feels surprisingly fresh and delightful. When Mary Bland (Mary Woronov) gets assaulted by one of the repulsive swingers from the neighboring apartment, her husband Paul (Paul Bartel) rescues her with a swift blow from a frying pan—only to discover a substantial wad of cash in the swinger's wallet. A lure-and-kill scheme follows, which nicely fills their nest egg until a slippery thief named Raoul (Robert Beltran of Star Trek: Voyager, making his film debut) stumbles onto the truth and insists on getting a share. When Raoul starts demanding a share of Mary as well, Paul has to take drastic steps. The key to Eating Raoul isn't the sensational content, but the blithe, matter-of-fact attitude Bartel and Woronov take to it; their sly underplaying makes the movie sparkle with wicked wit.—Bret Fetzer

Click here to purchase the DVD.

Fast Food

Auggie (Clark Brandon) and his pals are living it up as perpetual college students. When the dean decides the only way to stop their antics is to graduate them, they come up with one final scheme; a risky bank loan to turn a friend's garage into stiff competition for Wrangler Bob's fast food chain. When it looks like Bob will win after all, they develop a very special sauce that keeps the crowds coming back because it has the effect of being an aphrodisiac. Bob doesn't like to lose, so he sends Dixie Love (Traci Lords) to infiltrate the restaurant and find out their secret. The ensuing FDA investigation culminates into a steamy case of disorder in the court!—from Amazon.com

Click here to purchase the DVD.

Return Of The Killer Tomatoes!

You're not going to believe this, but Return of the Killer Tomatoes is a genuinely funny movie. Ten years after John DeBello made the frowzy, low-budget Attack of the Killer Tomatoes, he brought the fleshy fruit back for a murderous encore. Like the first film, it works as a parody of horror-movie conventions (and it repeatedly makes fun of itself, Mad-magazine style), but this time the budget is higher. There's a great, ongoing send-up of product placement, plus a juicy role for the oft-underutilized John Astin, as the evil genius this kind of movie needs. Just to keep everything moving, another exploitation film keeps cutting in: Big-Breasted Girls Go to the Beach and Take Their Tops Off. It ain't high art, but this movie knows its audience. A young George Clooney plays one of the heroes.—Robert Horton, from Amazon.com

Click here to purchase the DVD.

The Cook

A long-lost two-reel comedy starring and directed by Roscoe "Fatty" Arbuckle and costarring Buster Keaton, The Cook (1918) has been reclaimed from nitrate materials found in Norway and Denmark in 1998-99. A few seconds' worth of footage remains lost, but the minor burps in continuity can't dim the two comic geniuses' balletic precision and freewheeling inventiveness. Keaton, new to the flickers, is more devil-may-care than in his own films, but the careening dynamism perfected in two decades of vaudeville knockabout is fully in play. Arbuckle's trademark fat is 95 percent muscle, and his no-sweat juggling rivals W.C. Fields'—though the image viewers will carry to their graves is his kitchen-pan jeu d'esprit as Cleopatra, clutching a link-sausage asp to "her" bosom. All this—plus a ladder-climbing dog named Luke—makes for a comedic tour de force. Milestone has filled out the package with another Arbuckle rediscovery, A Reckless Romeo (1917), and Harold Lloyd's characteristically zippy Number Please! (1920)—all three shot on glorious amusement-pier locations.—Richard T. Jameson

Click here to purchase the DVD.

The Last Supper

Painted in mile-wide strokes of black satirical comedy, The Last Supper turns intolerance into a parlor trick, then repeats it ad nauseam in case we missed the joke. Still, redundancy can be fun when applied to the premeditated murder of right-wing extremists by self-righteous left-wing zealots; director Stacy Title is an equal-opportunity offender, never taking sides. The grisly high jinks commence when a truck-driving, child-molesting, Hitler-loving ex-Marine (Bill Paxton, acing the role) is accidentally killed while dining with a clutch of snobby liberal grad students, played with uniform excellence by Cameron Diaz (showing early promise), Ron Eldard, Courtney B. Vance, Annabeth Gish, and coproducer Jonathan Penner. Having acquired a taste for blood, the wine-poisoning liberals stage "last suppers" with hand-picked targets (Charles Durning, Mark Harmon, Jason Alexander, and ultimately Ron Perlman), eventually attracting a suspicious sheriff (fine work by SNL alumnus Nora Dunn). It's got all the subtlety of a pile-driver, but The Last Supper craftily defends free speech by exposing its most vicious violations.—Jeff Shannon, from Amazon.com

Click here to purchase the DVD.

Who Is Killing the Great Chefs of Europe?

The culinary community in Europe races to solve a chain of mysterious homicides in which the murderer kills a chef using the same methods and preparation as the chef's signature dish.—Melissa Hom, TheNibble.com

Click here to purchase the VHS tape.

Dramatic Comedies

Alice's Restaurant

You can get anything you want there, or so went Arlo Guthrie's song, a lengthy monologue about a Thanksgiving dinner and how its aftermath kept Guthrie out of the Vietnam-era draft. Arthur Penn's movie version, which stars Guthrie, James Broderick, and Pat Quinn, has a shambling, good-natured feel, much like Guthrie's epic tall tale. But as it follows Guthrie's adventures (he gets arrested for improper disposal of Thanksgiving garbage and the arrest renders him unfit for military service, in the draft board's eyes), it also examines the freewheeling nature of relationships in that period—and the toll that freedom took on those relationships. Guthrie is a natural performer, particularly funny during the draft board sequence; but the heart of the film is Quinn and Broderick's troubled marriage.—Marshall Fine, from Amazon.com

Click here to purchase the DVD.

Diner

Barry Levinson's debut film as a writer-director nearly got lost in the shuffle before New York critics rescued it from oblivion. Set in his native Baltimore in 1959, it focuses on a group of pals coping with life post high school. Each of them has problems with women, it seems, whether it's Steve Guttenberg (as a guy about to get married who forces his fiancée to pass a test about the Baltimore Colts), Mickey Rourke (as the womanizing hairdresser with a gambling problem), or Daniel Stern (as the married one who makes his wife miserable with his carefully cataloged record collection). The only time these guys seem like they have it together is when they gather at the diner to sling the bull. The cast includes Ellen Barkin, Timothy Daly, Paul Reiser, and Kevin Bacon—each in a breakthrough role.—Marshall Fine, from Amazon.com

Click here to purchase the DVD.

Eat A Bowl Of Tea

Director Wayne Wang is in his appealingly low-key groove with this wry comedy-drama, a precursor to his later success with The Joy Luck Club. It's set in the aftermath of World War II, when the restrictive U.S. immigration laws had finally been relaxed. WWII vet Russell Wong is a young Chinese-American hepcat, strong-armed by his dad (the wonderfully gnarled character actor Victor Wong) into an arranged marriage with a Chinese girl (Cora Miao). The trip to China, and the atmosphere of New York's Chinatown, are neatly mounted. The film's central joke, and metaphor, is the bridegroom's impotence after marriage; he's cowed by the expectations of his traditional culture, which don't necessarily match his own ideas. In its quiet way, Eat a Bowl of Tea examines the larger issues of ethnic identity while poking affectionate fun at its floundering characters—a distinctly modern attitude for a 1940s story.—Robert Horton, from Amazon.com

Click here to purchase the DVD.

Julie & Julia

In 2000 Julie Powell, a junior bureaucrat in New York City, decides to cook all the recipes in Mastering The Art Of French Cooking, in one year, and to blog about it. The blog develops a following and becomes a book. The book becomes a film starring Meryl Streep (Julia Childs) and Amy Smart (Julie Powell), intercutting episodes of the former's life with the latter's. As attractive and charming as Julie Powell is portrayed by the gifted Adams, one can't help but long for Julia Part II—more of Meryl Streep as Julia and Stanley Tucci as her husband and biggest fan, Paul Childs.—Karen Hochman, TheNibble.com

Click here to purchase the DVD.

Satyricon

Two student friends in first century Rome under Nero's reign divide themselves over a common love interest—only to cause a divide in the earth with an earthquake. Their finger-licking hedonistic travels lead them to adventure and encounters with the demi-divine.—Melissa Hom, TheNibble.com

Click here to purchase the DVD.

Sideways

With Sideways, Paul Giamatti (American Splendor, Storytelling) has become an unlikely but engaging romantic lead. Struggling novelist and wine connoisseur Miles (Giamatti) takes his best friend Jack (Thomas Haden Church, Wings) on a wine-tasting tour of California vineyards for a kind of extended bachelor party. Almost immediately, Jack's insatiable need to sow some wild oats before his marriage leads them into double-dates with a rambunctious wine pourer (Sandra Oh, Under the Tuscan Sun) and a recently divorced waitress (Virginia Madsen, The Hot Spot)—and Miles discovers a little hope that he hasn't let himself feel in a long time. Sideways is a modest but finely tuned film; with gentle compassion, it explores the failures, struggles, and lowered expectations of mid-life. Giamatti makes regret and self-loathing sympathetic, almost sweet. From the director of Election and About Schmidt.—Bret Fetzer, from Amazon.com

Click here to purchase the DVD.

The Deli

A "feel good" New York slice-of-life with an ensemble cast of favorites, The Deli, tells the engaging tale of Johnny Amico (Dumb & Dumber's Mike Starr), a lovable but incorrigibly bad gambler who has a tough time paying the bills at his Italian-American delicatessen.

With one week to make good on his debts, Johnny rides a comic roller coaster as he desperately tries to save The Deli while battling a crazy bunch of bookies, gangsters and neighborhood nut jobs."—from Amazon.com

Click here to purchase the DVD.

The Road to Wellville

This wrong-headed adaptation of the very funny (and scatological) novel by T. Coraghessan Boyle was written and directed by Alan Parker, who doesn't seem to have much of a clue. It's not a botch, just a movie that hammers its efforts at humor too hard. The focus is split between three story lines: the life of cereal tycoon John Kellogg (Anthony Hopkins with buck teeth), who has created a health spa for the wealthy that focuses on regular cleansing of the digestive tract (as well as applications of electricity); the troubles of an unhappy young couple (Matthew Broderick and Bridget Fonda), who come to the spa hoping to cure their marital ills (Broderick gets the worst of the deal); and the efforts of a young hustler (John Cusack), who is trying to break into the breakfast-cereal business but gets taken by an even bigger hustler (Michael Lerner). There are subplots about Kellogg's children but they add little. For all the doo-doo and enema jokes, the joys of this movie are distinctly scattered.—Marshall Fine, from Amazon.com

Click here to purchase the DVD.

Family Comedies

Charlie And The Chocolate Factory

Mixed reviews and creepy comparisons to Michael Jackson notwithstanding, Tim Burton's splendidly imaginative adaptation of Charlie and the Chocolate Factory would almost surely meet with Roald Dahl's approval. The celebrated author of darkly offbeat children's books vehemently disapproved of 1971's Willy Wonka and the Chocolate Factory (hence the change in title), so it's only fitting that Burton and his frequent star/collaborator, Johnny Depp, should have another go, infusing the enigmatic candyman's tale with their own unique brand of imaginative oddity. Depp's pale, androgynous Wonka led some to suspect a partial riff on that most controversial of eternal children, Michael Jackson, but Burton's film is too expansively magnificent to be so narrowly defined. While preserving Dahl's morality tale on the hazards of indulgent excess, Burton's riotous explosion of color provides a wondrous setting for the lessons learned by Charlie Bucket (played by Freddie Highmore, Depp's delightful costar in Finding Neverland), as he and other, less admirable children enjoy a once-in-a-lifetime tour of Wonka's confectionary wonderland. Elaborate visual effects make this an eye-candy overdose (including digitally multiplied Oompa-Loompas, all played by diminutive actor Deep Roy), and the film's underlying weirdness is exaggerated by Depp's admirably risky but ultimately off-putting performance. Of course, none of this stops Burton's Charlie from being the must-own family DVD of 2005's holiday season, perhaps even for those who staunchly defend Gene Wilder's portrayal of Wonka from 34 years earlier.—Jeff Shannon, from Amazon.com

Click here to purchase the DVD.

Chitty Chitty Bang Bang

This remastered, pan-and-scan 30th-anniversary edition of that kiddie-car caper is flawed but solid family fare. It retains a quaint charm while some of the songs—including the title tune—are quite hummable. A huge plus is Dick Van Dyke, who is extremely appealing as an eccentric inventor around the turn of the century. With nimble fingers and a unique way of looking at the world, he invents for his children a magic car that floats and flies. Or does he? The special effects are tame by today's standards, and the film is about 20 minutes too long—but its enthusiasm charms. The script was cowritten by Roald Dahl and based on the novel by Ian Fleming, best known for his James Bond adventures.—Rochelle O'Gorman, from Amazon.com

Click here to purchase the DVD.

Christmas In Connecticut

Christmas in Connecticut is a holiday film that plays 365 days of the year. Barbara Stanwyck gives a brilliant, sardonic performance as Elizabeth Lane, a columnist for Smart Housekeeping magazine, whose enticing descriptions of the exquisite meals she prepares for her husband and baby on their bucolic Connecticut farm earns her fame as "America's Best Cook." A writer, she is; a cook, she is not.—Susan Benson, from Amazon.com

Click here to purchase the DVD.

Good Burger

Based on a cable-channel Nickelodeon project, Good Burger teams Kel Mitchell and Kenan Thompson as a contemporary Abbott and Costello team, working a fast-food stand while competing with a major chain outlet right across the street. It's sight gags and physical humor galore, and while the film is aimed at kids there's no reason adults can't enjoy if caught in the right mood.—Tom Keogh, from Amazon.com

Click here to purchase the DVD.

Ratatouille

This charming 2007 hit from Pixar hit focuses on Rémy, a French rat with a cultivated palate who yearns to be a chef. The gifted rat sneaks into a Paris restaurant and works his wonders, hiding all the while from the less-gifted humans in the kitchen. One day, Paris's make-it-or-break-it food critic, a curmudgeon of a man, tries Rémy's cuisine, and his built-in frown becomes upturned. The animation is terrific, and Remy is as adorable a hero as animation has produced.

Click here to purchase the DVD.

Soul Food

Soul Food is the kind of movie that seems to have been blessed throughout its low-budget production, and it's got a quality of warmth and charm that fits perfectly with its authentic drama about a large African-American family in Chicago. Twenty-eight-year-old writer-director George Tillman Jr. drew autobiographical inspiration from his upbringing in Milwaukee, and on a well-spent $6.5 million budget he succeeded where similar films (including Waiting to Exhale and How Stella Got Her Groove Back) fell short: He depicts his many characters with such depth and sympathy that, by the time they have weathered several family crises, we've come to care and feel for them and the powerful ties that bind them together. Tillman's touch can be overly nostalgic, melodramatic, and cloyingly sentimental, but never so much that the movie loses its firm grip on reality. As a universal portrait of family life, Soul Food ranks among the very best films of its kind—believable, funny, emotional, and always approaching its characters (well-played by a uniformly excellent cast) with a generous spirit of forgiveness and understanding. As satisfying as one of Big Mama's delicious dinners, Soul Food is the kind of movie that keeps you coming back for more.—Jeff Shannon, from Amazon.com

Click here to purchase the DVD.



Tortilla Soup

The tantalizing genre of food films—stretching from Babette's Feast to Big Night and beyond—has a delicious new addition, Tortilla Soup. The food-preparation scenes will make your mouth water. Fortunately, the rest of the movie holds up as well. Hector Elizondo plays Martin, a widowed chef who is losing both his sense of taste and control over his three daughters: Leticia (the always superb Elizabeth Peña), a religious schoolteacher; Carmen (Jacqueline Obradors), a successful but unhappy businesswoman still carrying on an affair with her ex-boyfriend; and Maribel (Tamara Mello), a rebellious teen falling in love with a young Brazilian. When a pushy, nosy, but very sexy widow named Hortensia (Raquel Welch) comes along, the troublesome subcurrents in the family start to surface. Elizondo's understated gravitas anchors the story, while the three sisters have sex, eat amazing-looking food, and break plates in the kitchen.—Bret Fetzer, from Amazon.com

Click here to purchase the DVD.

What's Cooking?

At first glance, What's Cooking? looks like it was dreamed up by some politically correct screenwriting committee: a series of overlapping stories that intercut among four families (one Hispanic, one Vietnamese, one African American, one Jewish) all preparing for Thanksgiving dinner. But what could be toothless and smarmy is made gripping and genuinely affecting by a mixture of observant writing, fluid direction, and a truly superb ensemble of actors, including Mercedes Ruehl, Alfre Woodard, Joan Chen, Julianna Margulies, Kyra Sedgewick, Dennis Haysbert, and a host of less well known but just as capable others. The script is a marvel of orchestration: small annoyances blossom into fierce conflicts, secrets are deftly revealed, and sanctimoniousness is subtly punctured. The acute but sympathetic portrait of family stress and tension is layered with quiet observations about race and class, as well as the capacity for tolerance and forgiveness. It's recently become a cliché to have characters express themselves through food (examples include Soul Food, Big Night, and Eat Drink Man Woman), but What's Cooking? turns food into a witty exploration of culture as everyone prepares their turkeys in entertainingly different ways—this is not a movie to watch on an empty stomach. Warm without false sentiment, What's Cooking? is deeply enjoyable.—Bret Fetzer, from Amazon.com

Click here to purchase on DVD.

Willy Wonka and the Chocolate Factory

Having proven itself as a favorite film of children around the world, Willy Wonka & the Chocolate Factory is every bit as entertaining now as it was when originally released in 1971. There's a timeless appeal to Roald Dahl's classic children's novel, which was playfully preserved in this charming musical, from the colorful carnival-like splendor of its production design to the infectious melody of the "Oompah-Loompah" songs that punctuate the story. Who can forget those diminutive Oompah-Loompah workers who recite rhyming parental warnings ("Oompah-Loompah, doopity do...") whenever some mischievous child has disobeyed Willy Wonka's orders to remain orderly? Oh, but we're getting ahead of ourselves... it's really the story of the impoverished Charlie Bucket, who, along with four other kids and their parental guests, wins a coveted golden ticket to enter the fantastic realm of Wonka's mysterious confectionery. After the other kids have proven themselves to be irresponsible brats, it's Charlie who impresses Wonka and wins a reward beyond his wildest dreams. But before that, the tour of Wonka's factory provides a dazzling parade of delights, and with Gene Wilder giving a brilliant performance as the eccentric candyman, Wonka gains an edge of menace and madness that nicely counterbalances the movie's sentimental sweetness. It's that willingness to risk a darker tone—to show that even a wonderland like Wonka's can be a weird and dangerous place if you're a bad kid—that makes this an enduring family classic.—Jeff Shannon, from Amazon.com

Click here to purchase the DVD.

Foreign Comedies

A Chef in Love

A French chef falls in love with Georgia (the country, not the state) and its cultural dishes during the rise of the Soviets.—Melissa Hom, TheNibble.com

Click here to purchase the VHS tape.

Au Petit Marguery

A group of friends and regulars gather for dinner at the last night of a closing restaurant and reminisce.—Melissa Hom, TheNibble.com

Click here to purchase the VHS tape (French without subtitles).

Bella Marta (Mostly Martha)

Mostly Martha is a rich addition to the recent banquet of movies about food. Martha (Martina Gedeck), the domineering chef at a fancy restaurant, has her rigid routine broken when her sister dies in a car wreck, leaving behind her 9-year-old daughter Lina (Maxime Foerste). Martha takes the girl in, but has no gift for maternal expression; she offers Lina food, but Lina refuses to eat. Meanwhile, her control over her kitchen is threatened when her boss hires a buoyant Italian named Mario (Sergio Castellitto) to assist, and Martha finds herself flailing in an effort to reestablish control of her life. While Mostly Martha may not hold many surprises, the writing, direction, and particularly the acting are as sumptuous and sensual as the cooking and eating. The relationship between Martha and Lina is portrayed with all its awkwardness and complications intact; the result is wonderfully affecting.—Bret Fetzer, from Amazon.com

Click here to purchase the DVD.

Chicken And Duck Talk (Gai Tung Aap Gong)

Also known as Chicken and Duck Speak, Chicken and Fast Food, or Ji Tong Ya Jiang (Mandarin title). This Cantonese film is a classic comedy about what happens when Danny Chicken, an American-fast food chicken joint, opens across the street from a Hong Kong duck shop.—Melissa Hom, TheNibble.com

Cousin, Cousine

One of the first, and most successful, French export comedies, Cousin Cousine garnered a Best Actress Oscar nomination for Marie-Christine Barrault, an international audience for director Jean- Charles Tacchella, and a substantial, surprising haul at American box offices in late 1975 and early 1976. Retrospectively, it's not difficult to understand why: Barrault and costar Victor Lanoux prove themselves to be adept, protean comic actors, and Tacchella's breezy pacing makes the witty, gag-laden script crackle with frenetic verve. Barrault and Lanoux play cousins (by marriage only; it isn't quite that French) drawn together when their respective partners are caught philandering. Their initial friendship quickly blossoms into something altogether more scandalous. The narrative, framed by weddings, funerals, and other family get-togethers, feels surprisingly modern in its choice of milieu; indeed, recent comedies such as Four Weddings and a Funeral and My Best Friend's Wedding owe a substantial debt to the whimsical tone of Cousin Cousine. More Hollywood than Cannes, it's perhaps unsurprising that Tacchella's comedy was recently remade into Cousins (1989), an intermittently amusing Ted Danson vehicle with occasional resemblances to its vastly superior predecessor.—Miles Bethany, from Amazon.com

Click here to purchase the VHS tape.

Cuisine Americaine

French-born, UCLA-trained screenwriter Jean-Yves Pitoun made his directorial debut with this French comedy in which self-taught cook Lorenzo, aka Loren (Jason Lee) is discharged from the U.S. Navy after hitting a superior who accused him of serving "sissy food" to the Admiral's guests. Back in Brooklyn, Loren works at his Italian-Irish family's pizza parlor and then heads for France to study with his idol, chef Louis Boyer (Eddy Mitchell). After the death of his wife, Boyer raised his daughter Gabrielle (Irene Jacob), now a successful restaurant architect engaged to physician Vincent (Thibault de Montalembert). Gabrielle and Loren compare recipes and finally choose romance from their menu, while Boyer begins to cave in from the stress of tax problems, restaurant critics, and police seeking illegal foreign workers.—From Amazon.com

Delicatessen

A post-apocalyptic future becomes the setting for pitch black humor in this visually intricate French comedy. The action takes place within a single apartment complex, which is owned by the same man that operates the downstairs butcher shop. It's a particularly popular place to live, thanks to the butcher's uncanny ability to find excellent cuts of meat despite the horrible living conditions outside. The newest building superintendent, a former circus clown, thinks he has found an ideal living situation. All that changes, however, when he discovers the true source of the butcher's meat, and that he may be the next main course. This dark tale is played out in a brilliantly designed, glorious surreal alternate world reminiscent of the works of director Terry Gilliam, who co-presented the film's American release. Like Gilliam, co-directors Jean-Pierre Jeunet and Marc Caro hail from an animation background, and have a fondness for extravagant visuals, absurdist plot twists, and a sense of humor that combines sharp satire with broad slapstick and gross-out imagery. This mixture may displease the weak of stomach, but those attuned to the film's sensibility will be delighted by the obvious technical virtuosity and wicked sense of humor.—From Amazon.com

Click here to purchase the DVD.

Eat Drink Man Woman

This is not a movie to see on an empty stomach. Writer-director Ang Lee's 1994 Oscar nominee tells a family story about a chef and his three daughters through the meals the chef prepares and serves his family. This touching, dryly funny story of a family coping with personal lives and the way those lives intersect with the family relationships captures a shift in generations in Taipei. The father, a famous chef who has lost his taste buds, still cooks, though he draws no pleasure from eating. His daughters, meanwhile, deal with both the disappointments and surprises of daily living and the way their adult lives compare to the expectations the widowed father had for them. A subtle, amusing and mouth-watering comedy of impeccable manners.—Marshall Fine, from Amazon.com

Click here to purchase the DVD.

Ermo

A humble and remote Chinese noodle street vendor cares for her disabled husband and son. When a neighbor buys a television, Ermo's drive for consumerism awakens and she refuses to be outdone. As she heads toward the city to make more money, but ends up selling—and losing—more than she expected, all for a television set.—Melissa Hom, TheNibble.com

Click here to purchase the VHS tape.

Fallen Angels

Fallen Angels was originally planned as one section of director Wong Kar-Wai's best-known film, Chungking Express, but eventually it grew into its own distinct and delirious shape. In many ways, Fallen Angels may be the better film, a dark, frantic fun-house ride through Hong Kong's nighttime world. Part of the film is a love story between two people who have barely met: a young, ultra-hip hit man (Leon Lai) and the dreamy operative (Michele Reis) who plans his jobs. Much of the movie is given over to a very strange subplot about a manic mute (Takeshi Kaneshiro) who goes on bizarre nocturnal prowls through a closed food market—like almost everything else in Wong's films, this is antic, stylish, and oddly touching, all at the same time. It must be said that, also like Wong's other films, Fallen Angels is fragmented and oblique to the point of occasional incomprehensibility…but then suddenly something wild or wonderful happens, such as the moment when the killer leaves the scene of a spectacular shooting and is promptly waylaid by a cheerful old school chum on a public bus. These coups—whether lyrical, violent, or simply "how on earth did they get that shot?"—are tossed off by Wong and cinematographer Christopher Doyle with all the cool of the hired killer, as though the movie were a cigarette dangling from a pair of oh-so-casual lips. This is exactly why so many otherwise calm critics fell all over themselves in hailing Wong Kar-Wai as one of the most exciting filmmakers of his generation.—Robert Horton, from Amazon.com

Click here to purchase the DVD.

Jamón, Jamón

Class, sex, and food are the obsessions of this Spanish comedy drama, an international hit from writer and director J.J. Bigas Luna that plays like a cross between the lusty Like Water for Chocolate (1992) and the early work of Pedro Almodovar. In a small town in Spain's arid Monegros region, young underwear factory executive Jose Luis (Jordi Molla) falls in love with the beautiful Silvia (Penelope Cruz), a worker on the shop floor. When Silvia becomes pregnant, Jose Luis wants to marry her, but his mother Conchita (Stefania Sandrelli), the factory owner, is appalled by the thought of her son marrying a working-class girl, especially one who is the daughter of a prostitute, Carmen (Anna Galiena). So Conchita hatches a scheme to woo Silvia away from her son by hiring handsome model Raul (Javier Bardem) to seduce the girl. A ham factory employee with aspirations to become a bullfighter, Raul's charms work their magic on both Silvia and Conchita, much to the dismay of Jose Luis, who seeks comfort in the arms of his sometime lover, Carmen. Jamon Jamon (1992) was the winner of a Silver Lion at the Venice Film Festival.—From Amazon.com

Click here to purchase the DVD.

L'Aile Ou La Cuisse

In this comedy, Louis de Funes is a top restaurant critic, the head of an important French culinary guide. At the beginning of the film, he and his son (Coluche) are at odds, as the son prefers working as a circus clown to studying the fine arts of gastronomy. The two join forces, however, to thwart the greedy owner of a chain of inferior restaurants, who plans to take over the finest restaurants in France and substitute his formulaic fodder for real cooking. Another lure bringing the son into the picture is a lovely secretary working for the guide.—From Amazon.com

La Cuisine Au Beurre (Cooking With Butter)

In this comedy, a French prisoner of war (WWII) returns home to his wife and café after a decade to find her with another man – a chef who cooks with butter, while he cooks with oil. Which man, and which fat, will win her heart?—Melissa Hom, TheNibble.com

La Grand Bouffe

"Bouffe" means "comic opera" and bouffer is French slang meaning "to eat." A dramatic comedy about friends who plan to commit suicide through excessive food, alcohol, and of course sex. Four successful, middle-aged men Marcello, a pilot; Michel, a television executive; Ugo, a chef; and, Philippe, a judge go to Philippe's villa to eat themselves to death. After the first night, Marcello insists that women should join them. Three prostitutes make it through a day or two; Andrea, a local school teacher, stays to the end. The villa, the food, and a Bugati roadster are essential props as is the star, Marcello Mastroianni.—Melissa Hom, TheNibble.com

Click here to purchase the DVD.

Meals On Wheels

A truly international production, Meals on Wheels teams up Jackie Chan, Sammo Hung, and Yuen Biao in a comedic-action-crime caper that includes what some consider one of the greatest fight scenes ever filmed. Directed by Hung, the movie takes place in Spain, marking the first Jackie Chan vehicle set in a non-Asian location. Chan and Biao play two lunch-truck restaurateurs who are trying to make a living selling egg rolls and hamburgers in the busy squares of Barcelona. Hung is a novice private investigator searching for a beautiful pickpocket named Sylvia (Lola Ferner) whose thieving teams her up with Chan and Yuen. Sylvia is kidnapped after she discovers she is actually a wealthy heiress, and that's when Chan, Yuen, and Hung join forces to free her and kick some bad guys' butts. Wheels on Meals is lighthearted fun with stunts and action scenes (including skateboarding tricks and a scene in which Chan and Yuen face off against a motorbike gang) that simply reaffirm the stars' physical and comic talents. The celebrated fight scene is a matchup between Chan and international kickboxing champion Benny "the Jet" Urquidez. The intensity of their scenes together spurred rumors of a rivalry beyond the film. Whether or not this was true, the two paired up again four years later in Dragons Forever. As for the nonsensical title, one theory claims the film's distributor (Golden Harvest) had little success with films whose titles started with "m" so they simply switched the two words around. The DVD boasts subtitles in eight different languages but does not include the "blooper" outtakes that frequently accompany Chan's films.—Shannon Gee, from Amazon.com

Click here to purchase on DVD.

Spicy Love Soup

A huge hit as a refreshingly young and modern movie in Chinese cinema, the film centers on five different love relationships—each with their individual warmth and quirks, similar to Love Actually.—Melissa Hom, TheNibble.com

Tampopo

Tampopo means dandelion in Japanese, and the plot of the film is structured much like one. The center of the flower, the main storyline, is about two truckers who stop late one night to get some noodles, and meet a widowed young ramen shop proprietor named Tampopo. Her shop isn't so great or special, especially to two noodle connoisseurs, which these truckers definitely are. But when one of the truckers gets beaten up, and Tampopo nurses him back to health, he agrees to stay and teach her everything he knows about the art of ramen.

As the truckers and Tampopo embark on an almost spiritual journey to create the ultimate noodle shop, picking up friends and self-knowledge along the way, the film wanders off in many directions. Interspersed throughout this main storyline are a series of small vignettes about food. We see some of the characters from these vignettes again, though most appear only once. The fact that these short films-within-a-film manage to stand on their own emphasizes the fact that this is a movie about more than just the characters in it. It is about the act of eating, and a reminder that by treating what may appear to be mundane with reverence, whether it is food or another person, a rewarding and previously unseen world is revealed.—Jake Lemkowitz, TheNibble.com

Click here to purchase the VHS tape.

The Chinese Feast

After accepting a cooking challenge at the Imperial Feast (a three-day culinary showdown), Chui Kong Sun and Au Ka Wai search for a chef who can cook for the challenge. The man they are looking for was a renowned chef but is now an alcoholic. In addition to watching sweet and sour pork and fried noodles with pork being prepared, the Iron Chef-esque challenge requires the following ingredients: bear palm, elephant trunk, and monkey brains."—Melissa Hom, TheNibble.com

Click here to purchase the DVD.

The Discreet Charm of the Bourgeosie

What can be more enjoyable then a meal among friends and family? In Luis Buñuel's surrealistic comedy The Discreet Charm Of The Bourgeoisie it is this common ritual a sextet of upper-class friends repeatedly attempt, only to be obstructed by one obscure event after another. Masterfully balancing the dichotomy of class vs. debauchery Buñuel delivers a ripping critique of the upper class. It is clear from the beginning that the lives Buñuel's Bourgeoisie are living are not what they seem. Eventually, their true colors begin to shine; not in actual actions but in haunting dreams. What is real and what lies in the subconscious becoming exceedingly blurry and in order to deliver his message, surrealism must take over. It is hard to pigeonhole Buñuel's classic that won him the Oscar for Best Foreign Language Film 1972: An absurd odyssey? A discreet satire? Not necessarily, but definitely charming.—Rob Bracco, from Amazon.com

Click here to purchase the DVD.

The God of Cookery

A conceited chef is defaced when an underhanded rival takes over his cooking empire. Fortunately, he meets a sweet and kind-hearted street vendor who has healing abilities. The two decide to reclaim their cooking status with a cook-off.—Melissa Hom, TheNibble.com

Click here to purchase the DVD.

The Wedding Banquet

This 1993 international hit by Ang Lee is a funny and poignant story of a gay, Taiwanese-American man who goes to some lengths to fool his visiting family that he's actually straight. The results are far more complicated and entertaining than anyone could have guessed. The film seems all the more rich now since Lee has become a major Hollywood director: that same sensitivity and mild bemusement he brought to such stories of manners as Sense and Sensibility and The Ice Storm in recent years are in full bloom in this earlier work.—Tom Keogh, from Amazon.com

Click here to purchase the DVD.

Romantic Comedies

Fast Food Fast Women

Louise Lasser and Robert Modicka put their hearts into the story of a 60-ish couple trying to make a go of it, regardless of his friends' ridicule and her low self-esteem. Their honest acting nearly gives this failed attempt at a Woody Allen-style episode of Friends needed humanity. The problem? Lasser and Modicka are not the lead actors in this film, whose tritely punning title is about the extent of writer-director Amos Kollek's wit. Anna Thomson is the ostensible heroine in this story about the denizens of a New York City diner and their romantic travails. The 35-year-old waitress, unlucky in life and love, seems such a candidate for long-term therapy that her unconventional outlook isn't so much profoundly sympathetic as simply pathetic. Kollek also stretches credulity by allowing a sex-show performer to melt at the badgering appearances of one of her "clients," the creepiest of the whole lot.—Kevin Filipski, from Amazon.com

Mystic Pizza

A sweet and sassy comedy about the bonds of sisterhood, Mystic Pizza offers the opportunity to see some solid young actors early in their careers. Three sisters of blue-collar Portuguese descent work in a pizzeria in the coastal town of Mystic, Connecticut. Each has her own unique romantic entanglements. One is the fast girl in town (Julia Roberts), who falls for a rich kid but wonders if she'll ever be accepted; one is the lifelong local girl (Lili Taylor) in love with her fisherman boyfriend (Vincent D'Onofrio) but scared of what marriage will do to their sex lives; and the youngest sister (Annabeth Gish) dreams of going to Yale but during a summer of baby-sitting has an affair with a married man. Through it all each sister depends on the others regardless of the complications. It's the alluring charm of the three disparate leads that makes Mystic Pizza the delightful experience it is.—Robert Lane, from Amazon.com

Click here to purchase the DVD.

Woman on Top

Woman on Top pretends to be your standard fish-out-of-water romantic comedy laced with touches of magic realism. When you break it down and look at its elements, however, it turns out to be different than most, which is good. Hot Spanish star Penélope Cruz (All About My Mother) plays Isabella Oliveira, a Brazilian chef who falls madly in love with, and marries, a dashing waiter (Murilo Benício). Throughout her life she's been a victim of motion sickness, and the only way she can overcome it is by being in control, whether it's driving or being on top during sex. Her husband starts to feel that as a threat to his Latin masculinity, and when he steps out on her, she catches him. She decides to leave Brazil and stop loving him, ending up in San Francisco with an old friend (Harold Perrineau Jr.), now a drag queen. There she meets a nice guy-television producer (Mark Feuerstein), who sets her up with her own cooking show. Normally in this kind of movie his character would be the perfect antidote for her heartbreak, but he ends up more seduced by the success of her cooking show than by her. When her husband shows up, she becomes trapped in a love triangle where both men are deeply flawed. Can she forgive her husband's infidelity and fall back in love with him? Forget the answer. The fact that the question is being asked separates Woman on Top from the other broad, romantic comedies that share its tone. Plus it's chock-full of seductive Brazilian music.—Andy Spletzer, from Amazon.com

Click here to purchase the DVD.