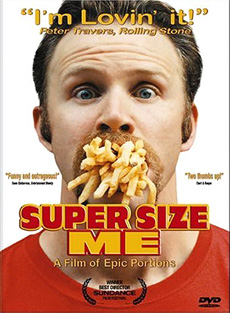 Want to start eating less? Want to wean the kids off of fat food? Want to strike a blow against obesity—childhood or any other kind? Invest in this DVD! Click here to purchase.

Documentary Films
Serious Eating
For a heaping serving of cinema verité, check out our picks for the best food documentaries. Ranging from the seriously educational to the ridiculously sublime, these films prove that behind every plate of food, there's a story. If your tastes range beyond the educational, click here to explore other genres.
Click here to tell us about your favorite films or food scenes.
Earth to Mouth

A film blending Lau King-Fai's work on a farm raising Asian vegetables for the market and the changing face of agriculture in Ontario, Canada.—Melissa Hom, TheNibble.com

Eat This New York

Eat This New York is a documentary about two best friends struggling to open a bistro in Brooklyn. Suffering through financial crisis and a crumbling friendship, the two friends learn what it really takes to open and run a restaurant. As a foil to these novices, the filmmakers turn their camera on legends of the New York food world, going behind the scenes at Le Cirque, Balthazar, Gramercy Tavern, Jean Georges, and other four star eateries. Candid conversations with Daniel Boulud, Danny Meyer, Keith McNally and many more food legends illuminate the trials and joys of what it's like to succeed in the restaurant world. Tim Zagat (Zagat Survey) and Ruth Reichl (Gourmet Magazine) lend sobering analysis to the proceedings.—From Amazon.com

Click here to purchase the DVD.

Fine Food, Fine Pastries, Open 6 to 9

A 30minute film highlighting Sherill's Restaurant and Bakery in Washington D.C., and how the restaurant influences the community.—Melissa Hom, TheNibble.com

The Future of Food

Surveys show that a large majority of Americans do not want genetically engineered food. So does Europe. Why is it then, that Americans and American farmers are either forced to eat and to grow, or eating and growing without knowing that our food supply is flooded with GMOs? A striking documentary on corporations, the government, and our role to know and to act.—Melissa Hom, TheNibble.com

Click here to purchase the DVD.

Garlic As Good As Ten Mothers
Les Blank's in-depth cinematic exploration of garlic. Part history lesson, part anthropological study, part cooking show, there seems to be no aspect of "the stinking rose" that this documentary misses. With guest appearances by Alice Waters and Ruth Reichl.—Jake Lemkowitz, TheNibble.com

Hamburger America

Hamburger America is a documentary film that tells the story of eight deliciously unique hamburger locations across the country and the people behind the burgers. Each restaurant featured in the film has been around for more than forty years, uses only fresh meat, and in many cases can boast the fact that ownership has stayed within the same family. Not only is each establishment family-run, but their booths, counters, and stools have seen families come together and grow over the years. The tenets of tradition, family, and pride are what make Hamburger America a truly American tale.—From Amazon.com

Click here to purchase the DVD.

The Meaning of Food

This 3-part series about American food and culture, proposes to bring us together over food. Eating is a form of communication that is rich with meaning. Our relationships to food—universal, most comfortingly familiar, yet ever-inviting topic—reveal much about us. The series will sit down to dinner with people from a wide variety of cultures across America, and through their stories explore and celebrate our shared human experience.—From Amazon.com

Click here to purchase the DVD.

Mondovino

The ultimate film about wine and wine culture, Mondovino offers an unprecedented look into the conflicts, conspiracies and alliances of the wine trade. Filmed by award-winning director Jonathan Nossiter, Mondovino has sparked controversy in its theatrical run among wine producers, distributors and consumers as it shed light on the esoteric world of wine. Hailed as "Fahrenheit 9/11 for the grape" by MSNBC. An epic exploration into the modern world of wine, Mondovino was filmed across three continents, in five languages, over a three-year period. With an inside's access and an artist's eye, Nossiter weaves together multiple family and multi-generational sagas, all stemming from the production, distribution and consumption of one of the oldest, most respected and still-affordable luxuries. Juxtaposing artesian wine growers with multi-national conglomerates, and peasants with billionaires, the film gives voice to those who create, critique and are involved in the commerce of wine, offering up a surprisingly prismatic, varied and sometimes controversial glimpse into something everyone enjoys but few people know much about.—From Amazon.com

Click here to purchase the DVD.

Super Size Me

Filmmaker Morgan Spurlock, rejected five times by the USC film school, won the best director award at the 2004 Sundance Film Festival for this alarmingly personal investigation into the health hazards wreaked by our fast food nation. Under extensive medical supervision, Spurlock subjects himself to a steady diet of McDonald's cuisine for 30 days just to see what happens. In less than a week, his ordinarily fit body and equilibrium undergo dark and ugly changes: Spurlock grows fat, his cholesterol rockets north, his organs take a beating, and he becomes subject to headaches, mood swings, symptoms of addiction, and lessened sexual energy. The gimmick is too obvious to sustain a feature documentary; Spurlock actually spends most of the film probing insidious ways that fast food companies worm their way into school lunchrooms and the hearts of young children who spend hours in McDonald's playrooms. French fries never looked more nauseating. —Tom Keogh, from Amazon.com

Werner Herzog Eats His Shoe

Werner Herzog Eats His Shoe is a short documentary made in 1980 by Les Blank, the prolific American filmmaker. True to its title, the movie features the acclaimed German-born director, actor and screenwriter, Werner Herzog, eating his own shoe. Why, you may ask? Because of a bet. In 2003, The Guardian listed Errol Morris as the seventh-greatest director in the world. But a little under thirty years ago, Morris was just a failed philosophy student with a propensity for sneaking into movies. It was through his friendship with Herzog that Morris first became involved with filmmaking. Werner Herzog Eats His Shoe has two origin stories. In the first, Herzog and Morris get into an argument, and Herzog tells Morris that that he will never finish his documentary, Gates of Heaven. Herzog claims that he is so sure of Morris's imminent failure, if the film ever is completed, Herzog will eat his own shoe. In Herzog's version of the story, the great German director meant to encourage the young protégé by telling him, 'You are going to make a film. And the day I am going to see the film in a theatre I will eat the shoes I am wearing.'" No matter which story you prefer, Herzog was true to his word. When Morris's Gates of Heaven premiered, Herzog boiled his own shoe, and ate it at the premier. Werner Herzog Eats His Shoe is worthwhile not only as a pop culture curiosity, but also for the monologue on film and life that Herzog gives to the audience as he dines.—Jake Lemkowitz, TheNibble.com

Click here to purchase the DVD.




© Copyright 2005-2018 Lifestyle Direct, Inc. All rights reserved. Images are the copyright of their individual owners.