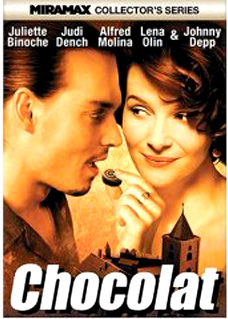 What better reason to order boxes of great chocolate and sit relish this great movie of a beautiful and mysterious woman who leads a town to find its repressed sensuality with her delicious chocolates Click here to purchase the DVD.


Romance Films
Anyone who ever cooked a meal for a date knows that the way to the heart is through the stomach. Still, nothing beats the two-pronged romantic dose of dinner and a movie. Even if your date is imaginary, a box of chocolates and one of the movies we've chosen below is all you'll need to put the passion back into your video renting. Not strong enough to withstand the raging emotions where food is involved? Well, then we can only tell you to click here to go back and explore other genres.

Click here to tell us about your favorite films or food scenes.
Age of Innocence

Martin Scorsese does not sound like the logical choice to direct an adaptation of Edith Wharton's novel about manners and morals in New York society in the 1870s. But these are mean streets, too, and the psychological violence inflicted between characters is at least as damaging as the physical violence perpetrated by Scorsese's usual gangsters. At the center of the tale is Newland Archer (Daniel Day-Lewis), a somewhat diffident young man engaged to marry the very respectable May Welland (Winona Ryder). But Archer is distracted by May's cousin, the Countess Olenska (a radiant Michelle Pfeiffer), recently returned from Europe. As a married woman seeking a divorce, the countess is an embarrassment to all of New York society. But Archer is fascinated by her quick intelligence and worldly ways. Scorsese closely observes the tiny details of this world and this impossible situation; this is a movie in which the shift of someone's eyes can be as significant as the firing of a gun. The director's sense of color has never been keener, and his work with the actors is subtle. That's Joanne Woodward narrating, telling us only as much as we need to know—which is one reason why the climax comes as such a surprise.—Robert Horton, from Amazon.com

Click here to purchase the DVD.

Annie Hall

Annie Hall is one of the truest, most bittersweet romances on film. In it, Allen plays a thinly disguised version of himself: Alvy Singer, a successful—if neurotic—television comedian living in Manhattan. Annie (the wholesomely luminous Dianne Keaton) is a Midwestern transplant who dabbles in photography and sings in small clubs. The chemistry between Allen's worry-wart Alvy and Keaton's gangly, loopy Annie is one of the screen's best pairings. It couldn't be more engaging. —Susan Benson, from Amazon.com Editor's Note: Allen attempting to wrangle a lobster is perhaps the archetypical crustacean scene in film.

Click here to purchase the DVD.

Autumn in New York

Autumn in New York is a by-the-numbers love story, right down to its opening shot of, yes, autumn in New York. Richard Gere stars as restaurateur/lady's man Will, while Winona Ryder plays the airy-fairy, oh-too-delicate-for-this-world Charlotte. Will is 48, Charlotte is 22, and it just keeps getting creepier: Will actually used to hang out with Charlotte's mom. She plays artily with beads and sparkly things, he notices how elfin and different she is (inspiring such stomach-churning dialogue as "I find you completely unprecedented and therefore utterly unpredictable"), and soon they're in love. Ah, but it's doomed: she has a tumor in her heart (just in case you missed the significance, Charlotte says "I'm sick in my heart!"). Does Charlotte have enough time left to teach Will to truly love? While Gere does a stoic job, Ryder spends a lot of time being darling and winsome, aided by the fact that Charlotte has managed to catch one of those special movie diseases where you never look bad or get tubes stuck up your nose. Director Joan Chen doesn't have much of a script to work with, but at least she knows how to pick a cinematographer; the whole movie is shot in gorgeous fall-leaf colors. Several excellent supporting actors are trapped in this movie: Jill Hennessey and Anthony LaPaglia do their very best, but what can they do in the face of such a sweeping, creepy love? Autumn in New York is nothing if not an earnest movie, and it certainly means well. Much like Charlotte, it seems to cry, "Can you let me love you? Please?" No.—Ali Davis, from Amazon.com

Click here to purchase the DVD.

Bella Marta (Mostly Martha)

Mostly Martha is a rich addition to the recent banquet of movies about food. Martha (Martina Gedeck), the domineering chef at a fancy restaurant, has her rigid routine broken when her sister dies in a car wreck, leaving behind her 9-year-old daughter Lina (Maxime Foerste). Martha takes the girl in, but has no gift for maternal expression; she offers Lina food, but Lina refuses to eat. Meanwhile, her control over her kitchen is threatened when her boss hires a buoyant Italian named Mario (Sergio Castellitto) to assist, and Martha finds herself flailing in an effort to reestablish control of her life. While Mostly Martha may not hold many surprises, the writing, direction, and particularly the acting are as sumptuous and sensual as the cooking and eating. The relationship between Martha and Lina is portrayed with all its awkwardness and complications intact; the result is wonderfully affecting.—Bret Fetzer, from Amazon.com

Click here to purchase the DVD.

Chocolat

With movies like Chocolat, it's always best to relax your intellectual faculties and absorb the abundant sensual pleasures, be it the heart-stopping smile of chocolatier Juliette Binoche as she greets a new customer, an intoxicating cup of spiced hot cocoa, or the soothing guitar of an Irish gypsy played by Johnny Depp. Adapted by Robert Nelson Jacobs from Joanne Harris's popular novel and lovingly directed by Lasse Hallström, the film covers familiar territory and deals in broad metaphors that even a child could comprehend, so it's no surprise that some critics panned it with killjoy fervor. Their objections miss the point. Familiarity can be comforting and so can easy metaphors when placed in a fable that's as warmly inviting as this one.—Jeff Shannon, from Amazon.com

Click here to purchase the DVD.

Christmas in Connecticut

Christmas in Connecticut is a holiday film that plays 365 days of the year. Barbara Stanwyck gives a brilliant, sardonic performance as Elizabeth Lane, a columnist for Smart Housekeeping magazine, whose enticing descriptions of the exquisite meals she prepares for her husband and baby on their bucolic Connecticut farm earns her fame as "America's Best Cook." A writer, she is; a cook, she is not.—Susan Benson, from Amazon.com

Click here to purchase the DVD.

Fast Food Fast Women

Louise Lasser and Robert Modicka put their hearts into the story of a 60-ish couple trying to make a go of it, regardless of his friends' ridicule and her low self-esteem. Their honest acting nearly gives this failed attempt at a Woody Allen-style episode of Friends needed humanity. The problem? Lasser and Modicka are not the lead actors in this film, whose tritely punning title is about the extent of writer-director Amos Kollek's wit. Anna Thomson is the ostensible heroine in this story about the denizens of a New York City diner and their romantic travails. The 35-year-old waitress, unlucky in life and love, seems such a candidate for long-term therapy that her unconventional outlook isn't so much profoundly sympathetic as simply pathetic. Kollek also stretches credulity by allowing a sex-show performer to melt at the badgering appearances of one of her "clients," the creepiest of the whole lot. —Kevin Filipski, from Amazon.com

Jamón, Jamón

Class, sex, and food are the obsessions of this Spanish comedy drama, an international hit from writer and director J.J. Bigas Luna that plays like a cross between the lusty Like Water for Chocolate (1992) and the early work of Pedro Almodovar. In a small town in Spain's arid Monegros region, young underwear factory executive Jose Luis (Jordi Molla) falls in love with the beautiful Silvia (Penelope Cruz), a worker on the shop floor. When Silvia becomes pregnant, Jose Luis wants to marry her, but his mother Conchita (Stefania Sandrelli), the factory owner, is appalled by the thought of her son marrying a working-class girl, especially one who is the daughter of a prostitute, Carmen (Anna Galiena). So Conchita hatches a scheme to woo Silvia away from her son by hiring handsome model Raul (Javier Bardem) to seduce the girl. A ham factory employee with aspirations to become a bullfighter, Raul's charms work their magic on both Silvia and Conchita, much to the dismay of Jose Luis, who seeks comfort in the arms of his sometime lover, Carmen. Jamon Jamon (1992) was the winner of a Silver Lion at the Venice Film Festival.—From Amazon.com

Click here to purchase the DVD.

Like Water for Chocolate

Expect to be very hungry (and perhaps amorous) after watching this contemporary classic in the small genre of food movies that includes Babette's Feast and Big Night. Director Alfonso Arau (A Walk in the Clouds), adapting a novel by his former wife, Laura Esquivel, tells the story of a young woman (Lumi Cavazos) who learns to suppress her passions under the eye of a stern mother, but channels them into her cooking. The result is a steady stream of cuisine so delicious as to be an almost erotic experience for those lucky enough to have a bite. The film's quotient of magic realism feels a little stock, but the story line is good and Arau's affinity for the sensuality of food (and of nature) is sublime. You might want to rush off to a good Mexican restaurant afterward, but that's a good thing.—Tom Keogh, from Amazon.com Editor's Note: "Like water for chocolate" is Mexican slang for sexual excitement.

Click here to purchase the DVD.

Mystic Pizza

A sweet and sassy comedy about the bonds of sisterhood, Mystic Pizza offers the opportunity to see some solid young actors early in their careers. Three sisters of blue-collar Portuguese descent work in a pizzeria in the coastal town of Mystic, Connecticut. Each has her own unique romantic entanglements. One is the fast girl in town (Julia Roberts), who falls for a rich kid but wonders if she'll ever be accepted; one is the lifelong local girl (Lili Taylor) in love with her fisherman boyfriend (Vincent D'Onofrio) but scared of what marriage will do to their sex lives; and the youngest sister (Annabeth Gish) dreams of going to Yale but during a summer of baby-sitting has an affair with a married man. Through it all each sister depends on the others regardless of the complications. It's the alluring charm of the three disparate leads that makes Mystic Pizza the delightful experience it is.—Robert Lane, from Amazon.com

Click here to purchase the DVD.

Sideways

With Sideways, Paul Giamatti (American Splendor, Storytelling) has become an unlikely but engaging romantic lead. Struggling novelist and wine connoisseur Miles (Giamatti) takes his best friend Jack (Thomas Haden Church, Wings) on a wine-tasting tour of California vineyards for a kind of extended bachelor party. Almost immediately, Jack's insatiable need to sow some wild oats before his marriage leads them into double-dates with a rambunctious wine pourer (Sandra Oh, Under the Tuscan Sun) and a recently divorced waitress (Virginia Madsen, The Hot Spot)—and Miles discovers a little hope that he hasn't let himself feel in a long time. Sideways is a modest but finely tuned film; with gentle compassion, it explores the failures, struggles, and lowered expectations of mid-life. Giamatti makes regret and self-loathing sympathetic, almost sweet.—Bret Fetzer, from Amazon.com

Click here to purchase the DVD.

Simply Irresistible

Call it Buffy the Culinary Slayer. Sarah Michelle Gellar, who usually runs around staking vampires and fighting demons, turns cute and cuddly as an aspiring chef in this magical-realist comedy that borrows a page—heck, whole chapters—from Like Water for Chocolate. Out at the market one day, Gellar stumbles on both a magical crab and the babelicious Sean Patrick Flanery who, wouldn't you know it, is opening up a posh restaurant at Bendel's department store (actually, the two have been brought together by fairy godfather Christopher Durang). Odd and implausible circumstances give these two cuties more opportunities to moon at each other, and suddenly Gellar's cooking takes off—turns out all her nicey-nice feelings towards Flanery are going into her cooking, with the help of that quiet but powerful little crab.—Mark Englehart, from Amazon.com

Click here to purchase the DVD.

Spicy Love Soup

A huge hit as a refreshingly young and modern movie in Chinese cinema, the film centers on five different love relationships – each with their individual warmth and quirks, similar to Love Actually.—Melissa Hom, TheNibble.com

Tom Jones

Winner of four Academy Awards® including best picture, director, screenplay, and music, this 1963 adaptation of Henry Fielding's classic novel is a rousing, bawdy comedy about a young man's ribald adventures in 18th-century England. Albert Finney is splendidly hilarious in the title role of a charming womanizer who was discovered as an abandoned infant in the bed of Squire Allworthy, a wealthy landowner who named the child Tom Jones and raised him as his own. As a young man, Tom yearns for the comely daughter (Susannah York) of a neighboring squire, but his amorous adventures (including an extended food orgy that becomes the film's funniest scene) lead him to London and to a duel with a jealous husband. He's sentenced to hang, but fate intervenes. A hit around the world, the film was expertly written by noted playwright John Osborne, and director Tony Richardson uses a variety of old-style movie techniques to heighten the lusty, good-natured fun. Don't miss this one!—Jeff Shannon, from Amazon.com

Click here to purchase the DVD.

Tortilla Soup

The tantalizing genre of food films—stretching from Babette's Feast to Big Night and beyond—has a delicious new addition, Tortilla Soup. The food-preparation scenes will make your mouth water. Fortunately, the rest of the movie holds up as well. Hector Elizondo plays Martin, a widowed chef who is losing both his sense of taste and control over his three daughters: Leticia (the always superb Elizabeth Peña), a religious schoolteacher; Carmen (Jacqueline Obradors), a successful but unhappy businesswoman still carrying on an affair with her ex-boyfriend; and Maribel (Tamara Mello), a rebellious teen falling in love with a young Brazilian. When a pushy, nosy, but very sexy widow named Hortensia (Raquel Welch) comes along, the troublesome subcurrents in the family start to surface. Elizondo's understated gravitas anchors the story, while the three sisters have sex, eat amazing-looking food, and break plates in the kitchen.—Bret Fetzer, from Amazon.com

Click here to purchase the DVD.

Vatel

Starring Uma Thurman (The Avengers, Pulp Fiction) Gerard Depardieu (The Closet) and Tim Roth (Rob Roy), Vatel is based on the true story of an ordinary man, a decadent king, and the woman caught between them. In the west of France, Prince de Conde has a scheme to save his bankrupt province: he'll regain the favor of King Louis XIV with a weekend of spectacle and merriment. The plan's success rests with Vatel (Depardieu), the one man who can deliver sumptuous food, elaborate amusements and all-out decadence fit for this king. But in the midst of it all, Vatel catches the eye of the beautiful Anne (Thurman) ... and places himself in direct competition with the King! Visually stunning and grandly entertaining, it's a motion picture you must see to believe!—from Amazon.com

Click here to purchase on DVD.

A Walk in the Clouds

Christopher Reeves plays a World War II vet who hits the road as a traveling salesman and agrees to help a desperate, pregnant woman (Aitana Sanchez-Gijon)—who is afraid to let her father (Giancarlo Giannini) see her condition—by pretending to be her husband. Most of the story takes place in the old man's vineyard, and Arau makes a life of swollen fruit, grape-stomping, sunlight, and tan flesh that looks amazingly erotic. But there are plenty of sillier distractions, such as the sight of farm hands chasing insects with flapping gossamer wings attached to their arms. Anthony Quinn is memorable as the damsel's benevolent grandfather.—Tom Keogh, from Amazon.com

Click here to purchase the DVD.

The Wedding Banquet

This 1993 international hit by Ang Lee is a funny and poignant story of a gay, Taiwanese-American man who goes to some lengths to fool his visiting family that he's actually straight. The results are far more complicated and entertaining than anyone could have guessed. The film seems all the more rich now since Lee has become a major Hollywood director: that same sensitivity and mild bemusement he brought to such stories of manners as Sense and Sensibility and The Ice Storm in recent years are in full bloom in this earlier work.—Tom Keogh, from Amazon.com

Click here to purchase the DVD.

When Harry Meet Sally

While not a film about food, this New York romance captures scenes of the most neurotic food preferences ever filmed: watch Sally order apple pie à la mode in an early scene, and describe a wedding cake years later at the end of the film. And perhaps the film's most famous scene, at Katz's Deli, added "I'll have what she's having" to the lingua franca (for trivia buffs, the line was spoken by director Rob Reiner's mother). Billy Crystal and Meg Ryan star.—Karen Hochman, TheNibble.com

Click here to order the DVD.

Woman on Top

Woman on Top pretends to be your standard fish-out-of-water romantic comedy laced with touches of magic realism. When you break it down and look at its elements, however, it turns out to be different than most, which is good. Hot Spanish star Penélope Cruz (All About My Mother) plays Isabella Oliveira, a Brazilian chef who falls madly in love with, and marries, a dashing waiter (Murilo Benício). Throughout her life she's been a victim of motion sickness, and the only way she can overcome it is by being in control, whether it's driving or being on top during sex. Her husband starts to feel that as a threat to his Latin masculinity, and when he steps out on her, she catches him. She decides to leave Brazil and stop loving him, ending up in San Francisco with an old friend (Harold Perrineau Jr.), now a drag queen. There she meets a nice guy-television producer (Mark Feuerstein), who sets her up with her own cooking show. Normally in this kind of movie his character would be the perfect antidote for her heartbreak, but he ends up more seduced by the success of her cooking show than by her. When her husband shows up, she becomes trapped in a love triangle where both men are deeply flawed. Can she forgive her husband's infidelity and fall back in love with him? Forget the answer. The fact that the question is being asked separates Woman on Top from the other broad, romantic comedies that share its tone. Plus it's chock-full of seductive Brazilian music.—Andy Spletzer, from Amazon.com

Click here to purchase the DVD.


Related Food Videos:



For more food videos, check out The Nibble's Food Video Collection.


© Copyright 2005-2015 Lifestyle Direct, Inc. All rights reserved. Images are the copyright of their individual owners.