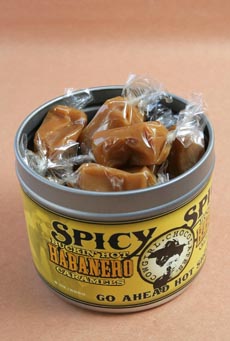 Not your grandmother's caramels: These spicy habañero caramels from Cowgirl Chocolates were one of the favorites in our caramel competition. Photo by Michael Steele.


Candy Trivia Quiz
Answer A Few Food Trivia Questions & Learn Fun Candy Facts
NOTE: You must have cookies or JavaScript enabled in your browser in order for the survey software to function.
Do You Think Candy Is Dandy?

So Do We! Find Reviews Of Our Favorite Candies—
Mints, Novelties, Old Fashioned, Toffee—In In Our
Gourmet Candy Section
Mankind has been enjoying candy since honey was combined with nuts and seeds to create the first confections. While refined sugar did not appear until on the tables of man (see our Sugar Glossary for details), ancient civilizations made confections with honey: in China, Greece, Egypt, India and Rome, it was used to coat fruits, flowers, nuts and seeds—uses that continue to today.
Answer four trivia questions and pick up some fun facts about candy.
TAKE THE QUIZ




Related Food Videos:



For more food videos, check out The Nibble's Food Video Collection.


© Copyright 2005-2015 Lifestyle Direct, Inc. All rights reserved. Images are the copyright of their respective owners.