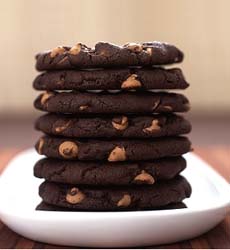 Peanut butter chocolate chip cookies from Solomon's Cookies. Read our full review. Also read the history of the chocolate chip cookie.
December 2007
Updated May 2009


Chocolate Chip Cookie Trivia Quiz
Answer A Few Fun Food Trivia Questions & Learn More About Chocolate Chip Cookies

What's your favorite cookie? Shortbread? Biscotti? Whoopie Pies? S'mores? We've reviewed everything from casual Cowboy Cookies to fancy tea cookies in our Cookies & Brownies Section—take a peek.
But America's favorite cookie is the chocolate chip cookie. Have some fun, take this trivia quiz and learn more about this American original. Then, kick back with a chocolate chip cookie or two—you deserve it.
NOTE: You must have cookies or Javascript enabled in your browser in order for the survey software to function.
TAKE THE QUIZ




Related Food Videos:



For more food videos, check out The Nibble's Food Video Collection.


© Copyright 2005-2015 Lifestyle Direct, Inc. All rights reserved. Images are the copyright of their respective owners.