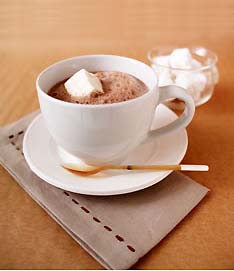 You've heard of comfort food; a cup of hot cocoa is at the top of the list of comfort beverages. See our favorite brands (and read reviews of more than 70) in our Cocoa & Hot Chocolate Section. Photo of Recchiuti hot chocolate and handmade marshmallows.


Cocoa/Hot Chocolate Trivia Quiz
Answer A Few Fun Food Trivia Questions & Increase Your Knowledge Of Hot Chocolate
NOTE: You must have cookies or Javascript enabled in your browser in order for the survey software to function.
TAKE THE QUIZ




Related Food Videos:



For more food videos, check out The Nibble's Food Video Collection.


© Copyright 2005-2015 Lifestyle Direct, Inc. All rights reserved. Images are the copyright of their respective owners.