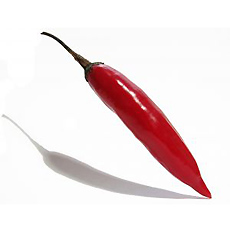 Looks pretty...but don't take a bite, even though the serrano chile is just "medium heat." Serranos are used in milder hot sauces. Photo by Erik Araujo | SXC.


Hot Sauce Trivia Quiz
Answer A Few Fun Food Trivia Questions & Learn More About Hot Sauce
NOTE: You must have cookies or JavaScript enabled in your browser in order for the survey software to function.
How hot does it get?
Read about the different chile peppers and how hot they really are, in our
Chile Glossary
.
TAKE THE QUIZ




Related Food Videos:



For more food videos, check out The Nibble's Food Video Collection.


© Copyright 2005-2015 Lifestyle Direct, Inc. All rights reserved. Images are the copyright of their respective owners.