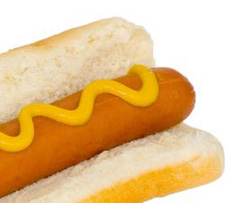 Man bites dog: 150 million of them on July Fourth alone!


Hot Dog Trivia Quiz
Answer A Few Trivia Questions & Learn Fun Food Facts
NOTE: You must have cookies or JavaScript enabled in your browser in order for the survey software to function.
Let us be frank: Americans love their wieners (wiener being short for wienerwurst or Vienna sausage, the slender link that is the ancestor of the hot dog). We consume almost two billion dollars worth of hot dogs annually—nearly 30 million of them in ballparks alone, and an estimated 150 million on July Fourth alone. But exactly how much do you know about that little doggie in a bun? You'll know lots more after you take this quick trivia quiz.
TAKE THE QUIZ




Related Food Videos:



For more food videos, check out The Nibble's Food Video Collection.


© Copyright 2005-2015 Lifestyle Direct, Inc. All rights reserved. Images are the copyright of their respective owners.