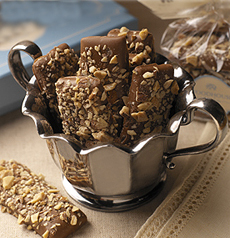 Should this toffee confection from Woodhouse Chocolate, covered in chocolate and rolled in almonds, be called toffee? Or does it have another familiar, more accurate name? Take the quiz and find out! And read our review of Woodhouse Chocolate, a NIBBLE Top Pick Of The Week.


Toffee Trivia Quiz
Answer A Few Questions & Learn Fun Facts About Toffee
NOTE: You must have cookies or JavaScript enabled in your browser in order for the survey software to function.
Love Toffee?

Find Reviews Of Our Favorites, Tips On How To Store & Use Toffee,
& More In In Our
Gourmet Toffee Section
Toffees are hard, chewy candies made by combining some type of sugar (white, brown, molasses) with water and butter. American recipes can add vanilla and other flavorings, and also add milk or cream. The ingredients are boiled together at a high temperature until the mixture is golden brown and stiff; the toffee is then spread into a shallow pan or onto a surface to thicken and cool. The slab is then broken into smaller, irregular pieces. Some toffees are poured into individual molds to create individual square or round pieces. Some are dipped in chocolate. Yum!
Now that you know the basics, become more expert by answering these toffee trivia questions. A wealth of sweet toffee information is supplied with the answers.
TAKE THE QUIZ




Related Food Videos:



For more food videos, check out The Nibble's Food Video Collection.


© Copyright 2005-2015 Lifestyle Direct, Inc. All rights reserved. Images are the copyright of their respective owners.