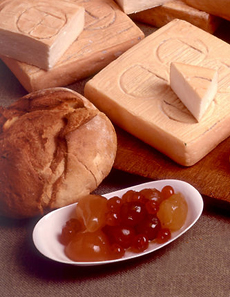 Taleggio, from Italy, is a "borderline stinky" cheese. Some people like it so much, they don't think it's stinky at all. Photo courtesy Wikimedia.
STEPHANIE ZONIS, Contributing Editor, focuses on good foods and the people who produce them.
October 2007
Last Updated September 2012

Stinky Cheeses
Only The Brave Deserve The Funky: A Guide To Stinky Cheeses
Click here to read other months' Whey To Go columns
Overview
You know what they're like. You've seen (or smelled) them before. They're runny, moldy and look positively decrepit, if such a word can be used to describe a cheese. There's not much in the way of middle ground here; either you love these so-called stinky cheeses, with their strong tastes and aromas, or you stay as far away from them as you possibly can. This article is dedicated to those among us with a penchant for these odiferous fromages. Incidentally, if you regard the term "stinky" as too juvenile to use, be aware that it is in such widespread use that the websites of some highly-regarded cheese retailers allow you to conduct searches for "stinky" cheese!
Since you need to know what to ask for (or stay away from) in the cheese case, what are some of the better-known varieties? Here are five you should know about.
While these few stinky cheeses have good public recognition, there are many other varieties available. Ask your cheesemonger what's available and taste away.
All About Stinkies
There are significant misconceptions about these cheeses, unfortunately. Many people believe that all goat cheeses are stinky, but that's untrue. Some goat cheeses are decidedly pungent in both aroma and flavor, yes, and goat's milk does have a perceptible tang, which will reflect in the taste of any cheese fabricated from it. But good hygiene also has a great deal to do with the character of any animal's milk, and goats that live in very clean environments produce milk that's positively delicate in nature. A less-aged goat cheese made from such milk will be of a gentler character. In fact, The Surreal Gourmet website declares that, while cheeses made from sheep's and goat's milk can be more pungent, the vast majority of stinky cheeses are made from cow's milk.
Another common belief among those who don't know better is that stinky cheeses have gone bad. To be sure, cheese is a perishable food, and it can indeed become unfit for consumption, at which time it will give off a strong odor. It's also true that soft, ripened cheeses (Brie, Camembert, etc.) can become overripe. If that happens, it's likely they'll carry a definite, if not strong, smell of ammonia. But a real, well-matured stinky cheese is neither spoiled nor overripe; it's just got great strength of character!
If you're wondering how it's possible that such strong-smelling, runny fermented curd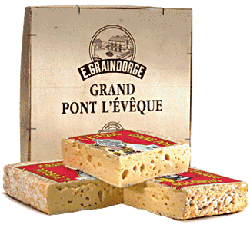 (with mold on it, yes) could appeal to anyone, remember that taste is a very subjective matter. Some people actually prefer foods with stronger aromas and flavors. The website CheeseReviews.org has a very intelligent response to this inquiry: Many preferences for stinky cheese are cultural in nature. In the U.S., we're raised to expect a germ-free, odor-free environment. If something is clean, or if it smells "clean," that's a plus. Anything with a strong odor, especially food, is going to raise a psychological question mark (or outright alarm) with us, even if that odor is derived from a natural source.
Pont l'Eveque from Di Bruno Brothers.
The same holds true with strong flavors; and if you haven't noticed, most Americans eat bland foods. An excellent example of this is fermented fish sauce—the number one condiment throughout Asia (and the favorite condiment of the wealthy in the Roman Empire, because it was an expensive condiment, bestowed as gifts the way we give wine). The liquid drained from fermented fish, nam pla of Thailand or the garum of the ancient Romans wouldn't appeal to most Americans. But people from other cultures are raised with more pungent aromas and tastes, so powerful scents and flavors are desirable. (Read a detailed discussion of garum and the ancient fish sauces of Asia.)
The Source Of Stinkiness
How do stinky cheeses become stinky? In a word, bacteria. All cheeses depend upon bacteria for their very existence. But one bacterium, Brevibacterium linens, is responsible for the majority of stinky cheese aromas and tastes. B. linens is a fussy sort and insists on a warm, moist environment in order to flourish. It lives chiefly on the surface of a cheese. As populations of B. linens increase, the rind of the cheese will usually take on a color that's a cross between pink and orange, and the bacteria release specific flavor compounds not always found in typical American foods. These can be earthy, mushroomy, or reminiscent of hay, among others.
Stinky cheeses are often referred to as being "an acquired taste." If that sounds like a euphemism, it isn't meant to. It's more of a cultured taste. The mighty aromas and flavors of these cheeses can be overwhelming for the younger set, who tend to have very sensitive palates. One's tastes change as one ages, however, and strongly-scented, strongly-flavored foods are often more appreciated by those beyond their twenties or thirties. And, some people may live to a ripe (no pun intended) old age without ever liking any cheese stronger than mild Cheddar or Swiss.
Serving Stinky Cheeses
If you're wondering about uses for stinky cheeses, they have a somewhat more limited range than an all-purpose "workhorse" of the cheese world. But unlike that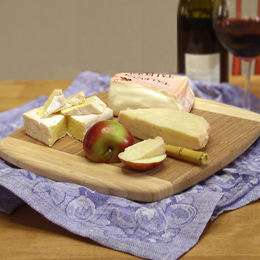 "workhorse," stinky cheeses are not meant to be all things to all consumers. Even the stinkiest example among these products can be used in some recipes (a brief web search for the particular cheese you have in mind should be all you'll require), but their true glory is often best established in a simple pairing with a wine or beer, some fruit, a toothsome loaf, or some good crackers. If you need to select an alcoholic beverage for your stinky cheese but aren't sure where to turn, ask a good cheesemonger, or simply surf over to a reputable cheese website. Just remember that their pairings are simply suggestions, not ironclad rules! You might also wish to include a stinky cheese as part of a cheese tasting. If you're planning a tasting of three or four cheeses, make sure you start with your mildest product and work up in flavor strength and aroma; if you try the reverse, the assertive nature of your stinky cheese will overwhelm the others you sample.
If you are not a fan of bold flavors and scents in your food, it may be the case that you'll never appreciate stinky cheeses. But if you've never tried them through simple fear of the unknown, step up to the (cheese) plate! A knowledgeable retailer will make sure you get a well-matured, great example of any of these cheeses. Ignore their appearance and take a bite. You'll be rewarded with multiple layers of complex flavors that partner perfectly with a stout-hearted beer, an intrepid wine or just some good seasonal fruit. Truly, good things can come in funky packages.
Cheese of the Month: Gorgonzola Piccante
A time-honored Italian blue, Gorgonzola is not necessarily a stinky cheese; you have to find the right type of it. A young Gorgonzola, usually called a "dolce" (the Italian word for "sweet"), will still have a powerful aroma, but the cheese itself will not be of as strong a flavor. A Gorgonzola dolce will be aged for a few months.
| | |
| --- | --- |
| Extend that aging period to a year or longer, however, and you'll have a blue that is worthy of the "stinky" appellation. This powerhouse is variously called Gorgonzola piccante, Gorgonzola di monte (Mountain Gorgonzola), or Gorgonzola naturale—by whichever name you choose, it is shown in the photo at the right. | Gorgonzola Piccante from DiBruno.com. |
Several sources agree that the piccante variety has a rind both thicker and dryer than that of a dolce, with a whiter interior and veins of mold that are both bluer and darker than its younger sibling. The piccante tends toward a firmer, somewhat crumbly texture, with a combination flavor of a spicy bite, the tang of a blue, and the buttery smoothness of a full-fat cow's milk cheese. This is not a subtle dairy product!
You can use Gorgonzola piccante in recipes ranging from salads to stuffed chicken or veal entrées to stuffed figs. It's used as a salad topping, or simply enjoyed with wine. I've seen suggestions for wine ranging from sweet, white, Italian dessert wines to big Italian reds, such as Chianti or Barolo. This should be a good indication both of the versatility of this cheese and the fact that there are few hard and fast rules in matching cheeses with wines! As far as availability of Gorgonzola piccante, if you do not live near a good cheese retailer, try DiBruno.com, ArtisanalCheese.com or MurraysCheese.com.
Sources
Cheese Primer by Steven Jenkins (New York: Workman Publishing, 1996)
Morris, Steven "Stinking Bishop Lives in Fear of the Wallace & Gromit Effect," The Guardian, September 13, 2005
© Copyright 2005- 2015 Lifestyle Direct, Inc. All rights reserved. Images are the copyright of their respective owners.