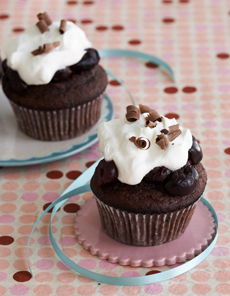 A Black Forest cupcake has all of the flavor of a Black Forest cake—and it's more fun. Photo courtesy Celestial Arts.

Recipe: Black Forest Cupcake
Chocolate Cherry Cupcakes With Whipped Cream
Black Forest Cake: An Overview
A classic Black Forest cake uses Morello cherries and Kirsch, a double-distilled, clear cherry brandy made from them. It originated in the Black Forest area of Germany where the cherries are grown. Whipped cream (chantilly) and chocolate curls or shavings are part of the recipe. (See the history of Black Forest cake and recipes.)
In these days of cupcake cuteness, why not translate the Black Forest cake into a more modern cupcake?
This is the peak of the short cherry growing season; fresh cherries are divine, but you can use frozen or canned cherries as well.

This recipe, from Susie Norris, author of Chocolate Bliss, starts with your own favorite chocolate cupcake recipe.

Black Forest Cupcake Recipe

First, bake 16 of your favorite chocolate cupcakes. What follows is the preparation of the cherries and the assembly.

Love chocolate? Want bliss? Get the book.
Ingredients
2 cups fresh, frozen or canned sour cherries, pitted (not cherry pie filling )
Splash of top-quality vanilla extract, such as Nielsen-Massey
Madagascar Bourbon Pure Vanilla Extract
1 tablespoon light corn syrup
1 teaspoon kosher salt or coarse sea salt
Whipped cream
1/2 cup confectioner's sugar
Seeds of 1 Nielsen-Massey Madagascar Bourbon Vanilla Bean
(or substitute 1 tablespoon of Nielsen-Massey Madagascar
Bourbon Vanilla Bean Paste)
2 cups heavy cream
Dark chocolate shavings for decoration
Preparation
Preheat the oven to 350°F. Grease 16 muffin cups or line with baking cups.
Make your favorite chocolate cupcake batter, per recipe instructions.
Ladle the batter into the prepared muffin pan, filling each cavity about three-quarters full (a large pastry bag works well for this task).
Bake for about 25 minutes. The cupcake tops will form a dome and a toothpick inserted in the center should come out clean. Allow cupcakes to cool in the pan to room temperature.
While the cupcakes are baking, prepare the cherries. Combine the cherries, vanilla, corn syrup and salt in a small saucepan and heat over medium heat for 3 minutes. Allow mixture to cool.
Once the cupcakes have cooled, scoop out a big, round chunk of each top with a melon baller or a paring knife. This will later be filled in with whipped cream and cherries.
To prepare the Whipped Cream: Sift the confectioner's sugar into a small bowl and set aside. Place the vanilla bean seeds in the bowl of an electric mixer fitted with the whisk attachment and let it run for several seconds at medium speed, which will release the flavor of the seeds.
Stop the mixer, add the cream to the mixing bowl and whip at medium speed for 1 to 2 minutes, until the cream reaches medium peaks. Stop the mixer and mix several tablespoons of the cream into the bowl of confectioner's sugar to make a paste. Then add the sugar paste into the mixing bowl and continue whipping until stiff peaks form. You will see fluffy whipped cream speckled with black vanilla seeds.
To make the chocolate shavings: Use a vegetable peeler or sharp chef's knife on a large block of room temperature dark chocolate and shave the chocolate into large curls. If you end up with only small pieces of chocolate, very finely chop them to make more of a chocolate dust. Set shavings/dust aside.
To assemble the cupcakes: Fill each scooped-out cupcake with a little whipped cream, then a generous scoop of drained, cooked cherries. Cover them with another dollop of whipped cream, then add chocolate shavings on top.
Alternate presentation: Ice the entire cupcake with big whipped cream rosettes and add a stemmed cherry on top (fresh or maraschino cherry), along with the chocolate shavings.
Recipe copyright Susie Norris. Other material © Copyright 2005- 2015 Lifestyle Direct, Inc. All rights reserved. Images are the copyright of their respective owners.