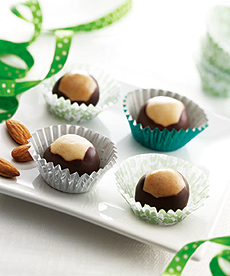 Buckeye cookies are named for the horse chestnuts of the Buckeye tree, and are very popular in the Buckeye State, Ohio. Photo courtesy WMMB.
Last Updated December 2013

Cookie Glossary: Cookie Types
How Many Types Of Cookies Are There?
Cookie Types
There are eight basic types of cookies: bar cookies, drop cookies, fried cookies, molded cookies, no-bake cookies, refrigerator (ice box) cookies, rolled cookies and sandwich cookies. You can see the overview of the different types of cookies, or read the individual listings in this glossary. Also see the history of cookies and how baked delights came to be. See our many other informative food glossaries—especially the Cake Glossary and Pastry Glossary.
There are thousands of different cookies in the world. This glossary's objective is to highlight those found in the U.S. Please use the Contact Us link to report any missing entries.
Click on a letter to go to the appropriate glossary page.
a b c d e f g h i j k l m n o p q r s t u v w x y z
This glossary is protected by copyright and cannot be reproduced in whole or part.
You are welcome to link to it.
ALMOND COOKIE
There are different types of almond cookies, from almond butter cookies made with almond paste, almond extract and chopped almonds to almond crescent cookies to amaretti to Chinese-American almond cookies, among others.
ALMOND BUCKEYE or BUCKEYE COOKIE
See buckeye cookie.
ALMOND LACE COOKIE
See florentine.
AMARETTI

Amaretti are the original macaroons; the name means bitter almond. The cookies were developed in an Italian monastery during the Renaissance. The original macaroon, a small, domed shape that is crisp and crunchy on the outside and soft inside, evolved into the French-style macaroon as well as the coconut macaroon. See macaroon and read the history of macaroons.


Amaretti cookies. Bake your own with this amaretti cookie recipe.
ANIMAL CRACKERS or ANIMAL
COOKIES

The type of animal crackers that we know today date to 19th-century England. They were first imported; in the latter part of the century they were manufactured domestically. "Zoologicals" made by local baker Walter G. Wilson were sold at the 1876 Centennial Exposition in Philadelphia. Two New York companies, Herfield & Ducker (in Brooklyn) and Vandeveer & Holmes Biscuit Company in Manhattan, manufactured them year-round. Both companies were ultimately acquired by the New York Biscuit Company, which then became part of the National Biscuit Company (known today as Nabisco).




A childhood favorite, the box was originally designed to hang on the Christmas tree. Photo courtesy Nabisco.
In 1902, the product was repackaged as Barnum's Animals Crackers (the "s" on animals was later dropped) and placed into the current circus cage box for the Christmas season. A string was attached so the box could be hung from the Christmas tree. Several other companies, including Keebler, make animal crackers today. They can be found in chocolate-covered versions as well.
BAR COOKIES
One of the eight basic types of cookies; batter or other ingredients are poured or pressed into a rectangular pan (sometimes in multiple layers), then baked and cut into individual-sized squares. Brownies and lemon bars are examples of bar cookies. In the U.K., bar cookies are known as "tray bakes".
BENNE WAFER or SESAME SEED
COOKIE

A specialty of the South Carolina Low Country since Colonial times, benne is the Bantu word for sesame. The herb seed was brought from East Africa and planted extensively throughout the South. The benne wafer is a thin cookie, made with toasted sesame seeds. Plain benne wafers are often served with cocktails. They are also made into sandwich cookies, as shown in the photo.




Benne wafers in a cookie sandwich. Photo courtesy Wisconsin Milk Marketing Board.
BISCOTTI

Italians call biscotti cantucci, and use the term biscotti to refer to any type of crunchy cookie, round, square and otherwise (as the British use the word biscuit). In North America, we use the term biscotti as the ancient Romans did, to describe a long, dry, hard twice-baked cookie—in other words, cantucci. While the Tuscan cantucci di Prato were only almond flavored, outside of the region the recipe expanded to include anisette-, amaretto- and lemon-flavored dough and to other spices; to biscotti with raisins and other dried fruits; to biscotti studded with chocolate morsels and with other varieties of nuts. Today, the flavorings are only limited to the imagination of the baker and the palates of the customer. Read the history of biscotti and learn more about cantucci. Other twice-baked cookies include the Dutch rusk, French biscotte and the German zwieback.





The finger-shaped cookies we call biscotti are called cantucci in Italy. Photo by Claire Freierman | THE NIBBLE.
| | | |
| --- | --- | --- |
| | | Black and white cookie from Lilly's Homestyle Bakeshop. |
| | | |
| --- | --- | --- |
| | | Chocolate Bourbon Balls. Photo by Teodora Vlaicu | SXC. |
BREAKFAST COOKIE

Looking for any excuse to eat a cookie, someone created a granola cookie with whole wheat flour, substituted honey and molasses for the sugar, and dubbed it a "breakfast cookie." The recipes became more elaborate, for example, using cherry almond granola, orange pecan granola, and chocolate chip granola. You can fool some of the people some of the time, but a breakfast cookie is still a cookie—just as muffins are a different form of cake.

BROWNIES & BARS

While cake-like brownies and bars (like lemon bars) are baked in cake pans and have a dense, cakey texture, they are actually classified as bar cookies. See the different types of cookies, and read the origin of brownies.




Brownies available from MackenzieLtd.com.
BUCKEYE COOKIE

Inspired by the horse chestnuts that fall from Ohio's famous buckeye trees, both cookies and candy called "Buckeye" are a specialty of The Buckeye State. The name "Buckeye" comes from Native Americans who felt that the nut of the Buckeye tree resembled the eye of a buck deer. The light, round center of the cookie and candy resembles the golden-brown husk of the of the nut. The cookies and candy are generally made with almonds rather than than chestnuts. Here's a recipe for the cookie.




Buckeye cookies. Photo courtesy WMMB.
BUTTER BALL
A meltaway shaped into a ball. When chopped pecans are added, they are called pecan balls.
BUTTER COOKIE

A butter cookie is a cookie with simple ingredients—butter, sugar and flour—in order to show off the delicious quality of butter. There are different types of butter cookies, from crumbly shortbread, to light, powdered sugar-dusted tea cakes, also known as "meltaways" or "wedding cakes." Always use fresh butter when baking butter cookies, since butter that has been stored in the refrigerator can pick up flavors from other foods. A cookie made with shortening or lard instead of butter is called a sugar cookie.


Fennel pistachio butter cookies from the Wisconsin Milk Marketing Board. Get the recipe.
© Copyright 2005-2015 Lifestyle Direct, Inc. All rights reserved. Images are the copyright of their individual owners.