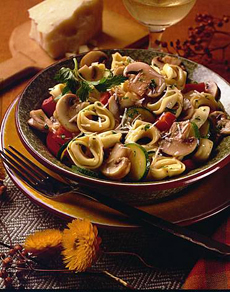 Tortellini are a crowd pleaser. Counter the carbs with nutritious veggies: mushrooms, red bell peppers and zucchini. Photo courtesy of MushroomInfo.com (the recipe is on the website).
Updated October 2009

Pasta Glossary
Page 9: Pasta Types With T
If you enjoy this Pasta Glossary, we have a food glossary for almost every category of food. Check out your favorites!
Click on a letter of the alphabet to go to
the appropriate page of this glossary.
a b c d e f g h i j k l m n o p q r s t u v w x y z
This glossary is protected by copyright and cannot be reproduced in whole or part.
Tagliatelle (tal-ya-TELL-lay) are the classic thin egg noodle of Italy. This cut originated in

Emilia-Romagna

, the region that also gave us balsamic vinegar, Parmigiano-Reggiano cheese and prosciutto di Parma (not bad for starters). The flat ribbons of pasta are slightly thicker than

fettuccine

. It is typically served with a rich meat

ragù

. The pasta is wide enough to hold such a heavy sauce; yet, it is is also delicate enough to serve with a creamy sauce. A classic preparation includes mascarpone cheese, smoked salmon, Parmesan cheese and chopped dill.




Photo courtesy of SXC.
TAGLIARINI
A narrower version of tagliatelle (see above), tagliarini (tal-yeh-REE-nee) is a flat, wide egg pasta. It is similar in size to fettuccine. It is traditionally served with butter sauces.
TARTUFI
Tartufi (tahr-TOO-fee) is the Italian word for black truffles. Some pastas, particularly ribbon and strand pastas, are made with flecks of black truffle which give it a luxurious flavor. It should be served with a simple butter sauce and freshly-grated Parmigiano-Reggiano cheese. The subtle truffle flavor also pairs beautifully with a drizzle of truffle oil or truffle butter. You wouldn't top it with fresh black truffles or white truffles; the point is that if you are fortunate enough to have fresh truffles, you don't need truffle pasta. Enjoy your fresh truffles on the finest plain pasta. (See our Truffle Glossary for more information.)
THREADS or CELLOPHANE
NOODLES
These are mung bean threads, translucent, gelatin-like noodles cooked in the same manner as rice noodles. While the Asian word translates as "threads," note that the translation of "spaghetti" is similar: cords or strings.

TORCHIETTI
Torchietti (tor-KYEH-tee) are literally, "little torches." These short, bell-shaped noodles go well with plain tomato sauces. (Photo at right.) They originated in the Campania region of Italy.

TORCOLETTI
A twisted pasta shape, excellent for catching sauce (tohr-coe-LEH-tee).




Torchietti, "little torches." Photo courtesy of SXC.
TORTELLINI
Tortellini (tor-teh-LEE-nee) is a small pasta stuffed with a variety of fillings, and a favorite pasta dish worldwide. It is also served in soups, as in the classic dish, tortellini in brodo. Tortellini originated in Bologna and is accompanied by a legend: When the goddess Venus stayed in a tavern on the outskirts of the city, the innkeeper spied on her through the keyhole of her room, but could catch only a glimpse of her navel. Spellbound, he went to the kitchen and, to capture this vision, shaped fresh egg pasta into the navel-sized tortellini.

TORTELLONI
Tortelloni (tore-teh-LOE-nee) are larger than the bite-sized tortellini.

TORTIGLIONI
Tortiglione (TORE-tee-LYOE-nee) are twisted, spiral tubes that are used in oven-baked dishes and with thick tomato or vegetable sauces.


Photo of Putney Pasta's tortellini. Click on the link to read our review. Photo by B.A. Van Sise | THE NIBBLE.
TRENNE
Trenne (TREN-nay), triangular penne, are a modern invention: (the tubes are not round but three-sided triangles). The name is a contraction: penne + triangolo (triangle) = trenne. Like penne, the size and density of the triangular tubes with the bias-cut ends are versatile for most preparations: cheese sauces, tomato sauces, straight from the pot or baked further in the oven ("al forno"). The triangular shape makes them that much more fun.

TRENETTE
A long, flat ribbon pasta, trennete (treh-NEH-tay) are very similar to linguine. The classic Ligurian dish is pesto and trenette; although or oil, garlic and chili pepper are also a classic dressing.




Trenne are available from MurraysCheese.com.
TROFIE
Rolled pasta (troe-FEE-eh).

TROFIETTE
Thinner trofie (troe-fee-EH-teh—photo at right).

TROTTOLE
A creative shape, where the pasta is curled in rings around a center stalk. Ideal for salads or soups (troe-TOE-lay—photo at right).


Trofiette.

Trottole.
TUBETTI RIGATI
Italian for "little tubes with lines," this small-to-medium size pasta cut (the tubes are about 1/2" long) is often used in soups, typically in minestrone. This cut can be substituted for ditali, pennette or elbow macaroni. Pronounced too-BEH-tee.
TUBETTINI
Tiny tubes, similar to ditalini, used in broth. Pronounced too-beh-TEE-nee.
TUBULAR PASTA
Pastas in the shape of a tube are available in many different sizes and shapes. Some tubes are long and narrow while others are short and wide. They can have smooth or grooved (rigate) exteriors; their ends can be cut straight or at an angle. They work especially well with heavier sauces, which catch in the hollows of the tubes. Some of the larger tubes like manicotti can be stuffed with meat and/or cheese and then baked (al forno). Among the smallest tubular pasta is elbow macaroni, often used for the popular dish, baked macaroni and cheese.


Rigatoni. Photo by P. Burnett | SXC.
TUSCANY
A region in central Italy, bordering on Lazio to the south, Umbria and Marche to the east, Emilia-Romagna and Liguria to the north, and the Tyrrhenian Sea to the west. Tuscany is known for its wines, including Chianti and Brunello di Montalcino. The capital is Florence and provinces include Arezzo, Grosseto, Livorno, Lucca, Massa-Carrara, Pisa, Pistoia and Prato.


The Tuscany region of Italy.
Continue To The Next Page: Words U-Z
Go To The Glossary Alphabet Index, Above
© 2005-2015 Lifestyle Direct, Inc. All rights reserved. Images are the copyright of their respective owners.