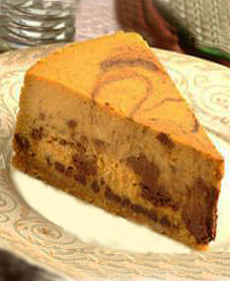 Photo of marbled sweet potato cheesecake courtesy of the North Carolina Sweet Potato Commission.

Recipes: Sweet Potato Cheesecake
A New Variation Of An Old Favorite

This sweet potato cheesecake has chocolate marbling. It's a great treat any time of the year, but make one as an alternative to pumpkin pie for Thanksgiving. Some people don't like pumpkin pie. (If they don't like pumpkin pie or cheesecake, you've fulfilled your job as a host/hostess; they can bring their own dessert!) This is Page 1 of a five-page article. Click on the black links to visit other pages.
Marbled Sweet Potato Cheesecake
Ingredients
Crust
2 cups finely crushed graham crackers
3/4 cup finely chopped walnuts or pecans
1/2 cup butter, melted
Cheesecake
4 8-ounce package cream cheese, softened
1 1/2 cups sugar
2 cups mashed, cooked sweet potatoes
1 1/2 teaspoon ground cinnamon
1 teaspoon vanilla
1/2 teaspoon ground nutmeg
1/2 teaspoon ground ginger
1/2 teaspoon salt
1/8 teaspoon ground cloves
4 eggs
1 ounce semisweet chocolate, melted and cooled
Preparation
Combine crust ingredients in a bowl. Press mixture onto bottom and about 2 inches up the sides of a 10-inch springform pan; set aside.
Beat cream cheese and sugar with electric mixer on medium speed until combined. Add sweet potatoes, cinnamon, vanilla, nutmeg, ginger, salt and cloves. Beat well.
Add eggs all at once. Beat on low speed just until combined.
Remove 1/2 cup filling into a separate bowl and stir in melted chocolate.
Gently pour plain filling into springform pan. Drop small spoonfuls of chocolate mixture onto filling and use a spatula to gently swirl batters.
Place springfoam pan in a shallow baking pan on oven rack. Bake in a 375° oven about 40 minutes or until center of cheesecake appears nearly set when shaken.
Cool in pan on wire rack for 15 minutes.
Use a small metal spatula to loosen cake from side of pan. Cool 30 minutes more.
Remove the cake from the pan and let cool completely.

Place in refrigerator to chill for at least 6 hours.
Serves 16.
Information, recipe and photo courtesy of the North Carolina Sweet Potato Commission. Other material © Copyright 2005- 2015 Lifestyle Direct, Inc. All rights reserved. Images are the copyright of their respective owners.