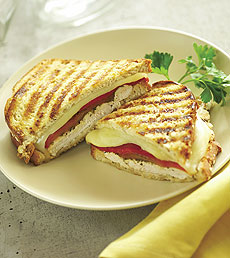 To switch it up, you can substitute different cheeses for the mozzarella in this grilled chicken panini recipe. Photo courtesy J.M. Smucker Company.

Recipe: Grilled Chicken & Roasted Pepper Panini
This panini recipe was a finalist in the 2009 Crisco Grilling Hall Of Fame Contest. You can read more about the contest on Page 1 of this recipe series. This is Page 5 of a 15-page article. Click on the black links below to view the other recipes.
Grilled Chicken & Roasted Pepper Panini
No one will say "no" to a sandwich of grilled chicken covered with melted mozzarella, accented with roasted red peppers and some Caesar dressing. Whole wheat bread is a healthier choice (learn more about whole grains). Serves 4.
Ingredients
4 (4-ounce each) boneless, skinless chicken breasts
2 tablespoons olive oil, divided
1 teaspoon Italian seasoning, divided
1/4 teaspoon garlic salt
1/8 teaspoon fresh ground pepper
No-stick cooking spray
8 slices whole wheat bread
1/2 cup bottled Caesar dressing
One 7-ounce jar roasted red peppers, drained, patted dry and divided
into 4 equal portions
One 8-ounce package of sliced mozzarella cheese
Preparation
With a meat mallet, pound chicken breasts to an even ½-inch thickness. Sprinkle breasts with 1 tablespoon olive oil and half of the Italian seasoning. Sprinkle garlic salt and pepper to taste. Rub lightly to evenly distribute olive oil and seasonings. Turn chicken, and top with remaining olive oil and seasonings, rubbing lightly.
Spray cold gas grill with no-stick cooking spray. Heat grill to medium-high. Cook chicken breasts for about 8-10 minutes, turning once, until no longer pink inside. Remove chicken, cover with foil and keep warm.
Lower heat on grill to medium-low. Spray one side of whole wheat bread slices with no-stick cooking spray. Place half of the bread slices (4) on grill, sprayed side down. Using a pastry brush, lightly apply a coating of Caesar dressing to the tops of bread slices. Top each with a chicken breast, 1 portion of roasted red pepper and ¼ of the mozzarella slices.
Brush unsprayed side of remaining bread slices with Caesar dressing. Place bread, dressing side down, on top of each sandwich. Turn and grill for another 2-3 minutes, or until cheese is melted.
Remove paninis to plates; flatten with sight pressure using a spatula. Slice into halves and serve.
Go To Page 6: Grilled Greek Feast
Recipe copyright 2009 J.M. Smucker Company. All rights reserved. Other material © Copyright 2005- 2015 Lifestyle Direct, Inc. All rights reserved. Images are the copyright of their respective owners.