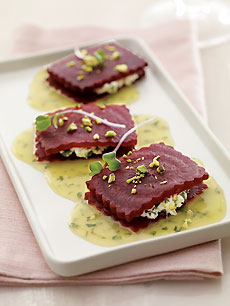 This elegant dish will please vegetarians and staunch gourmets.

Recipe: Goat Cheese Beet "Ravioli" With Tarragon-Orange Sauce
This mock "ravioli" features a pistachio and tarragon-flecked goat cheese filling layered between roasted beet slices that are crimped to look like ravioli. A lightly sweetened tarragon orange sauce and more pistachios finish the dish.
Serve it as a vegetarian main course, or serve one piece as a first course.
Yields 6 servings (main course).
Ingredients
2 pounds beets
1 tablespoon butter
2 teaspoons flour
1 cup orange juice, divided
1/4 cup sugar
2 teaspoons lemon juice
1-1/2 teaspoons tarragon leaves,
divided
6 ounces fresh goat cheese (chèvre)
1/2 cup chopped shelled pistachios,
divided

Tarragon and beetroot together create a rich sensory feast.

Preparation
Preheat oven to 425°F.
Remove greens and bottom roots from beets. Wrap beets in foil. Bake in oven 45 minutes to 1 hour or until tender when pierced with small knife. Cool until able to handle. Peel beets.
Meanwhile, melt butter in small saucepan on low heat. Add flour, whisking until well blended. Stir in 1/2 cup of the orange juice until smooth. Whisking constantly, bring to boil on medium heat. Remove from heat. Pour into small bowl. Whisk in remaining 1/2 cup orange juice. Stir in sugar, lemon juice and 1/2 teaspoon of the tarragon. Stir occasionally until sauce is completely cooled.
Mix goat cheese, 1/4 cup of the pistachios and remaining 1 teaspoon tarragon in small bowl until well blended.
Cut beets into thin slices (no more than 1/8-inch thick). Using cookie cutters, cut beet slices into decorative shapes, if desired. Spoon 1/2 to 1 teaspoon filling onto half of the beet slices. Cover each with a second beet slice to create "raviolis." To serve, spoon about 3 tablespoons Tarragon-Orange Sauce onto each serving plate. Arrange 3 to 4 "raviolis" in the sauce. Sprinkle with remaining 1/4 cup pistachios.
Recipe © 2008 McCormick. All rights reserved. Other material © Copyright 2005- 2015 Lifestyle Direct, Inc. All rights reserved. Images are the copyright of their respective owners.