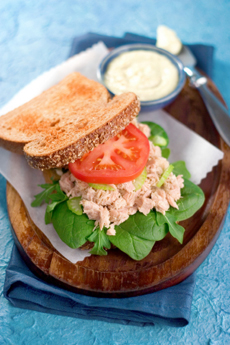 Your tuna sandwich will taste better and be better for the environment, if the can is labeled "U.S. troll-caught,", "Product of the U.S." or "U.S.-caught." Photo by Kelly Cline | IST.

Sustainable Seadood
U.S.-Caught, Sustainable Tuna


CAPSULE REPORT: When President-elect Barack Obama made tuna salad with his family on "60 Minutes" last year, he used a recipe, specifying troll-caught albacore. This is Page 2 of a two-page article. Click on the black link below to see the recipe on Page 1.

A Lesson In Sustainability: Sustainable Seafood Terms
The world tuna population is endangered: Due to the popularity of tuna, several of the major species are on the endangered species list. Learn more about it here.
U.S. fisheries are taking the lead in sustainable tuna fishing. These terms will explain both the situation and the solution:
Learn about the Seafood Watch program of the Monterey Bay Aquarium Foundation.
Sellers Of Sustainable Albacore Tuna
Custom-canned albacore is available across the U.S., labeled as "U.S. troll-caught," "Product of the U.S." or "U.S.-caught." Some quality brands include:
Photo courtesy IslandTrollers.com.

© Copyright 2005- 2015 Lifestyle Direct, Inc. All rights reserved. Images are copyright of their respective owners.