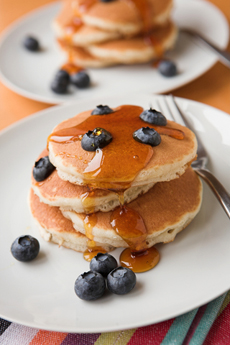 Did you notice this isn't a pancake? Photo by D.K. Gilbey | Dreamstime.
STEPHANIE ZONIS focuses on good foods and the people who produce them.

Whole Grain & Multigrain Pancake Reviews
Page 6r:
(1) Willow Creek Mill Pancake & Waffle Mix
(2) Wood Prairie Farm Pancake Mixes
You are reading part of a review of 99 different whole grain and multigrain pancake mixes from 44 different manufacturers. You can return to the index of all of the pancake mixes or go to Page 1 of the complete pancake article.
Pancake Mix Reviews:
Willow Creek Mill Pancake & Waffle Mix
| | | |
| --- | --- | --- |
| Whole Wheat Pancake Mix. Grain mix: whole wheat flour, unbleached flour. The batter was prepared with the optional butter and a pinch of (optional) salt; it was of a good consistency. There was less rise than some. The finished pancakes were just sweet enough to eat without syrup, but they're even better with it. The pancakes have a nice, wheaty flavor, with a texture neither too dense nor too fluffy. A favorite. | | Photo by Hannah Kaminsky | THE NIBBLE. |
Wood Prairie Farm Pancake Mixes
All of the mixes I tried from this company resulted in batters that were too thin initially, but the batters thickened almost immediately to a consistency fine for pancakes. All of the mixes made pancakes that rose nicely during baking and achieved good browning. WoodPrairie.com
Organic Acadian Buckwheat Pancake Mix. Grain mix: organic whole wheat flour, organic buckwheat flour. These are hearty pancakes, with an unmistakably stronger (but not unpleasant) grain flavor. Slightly too much salt.

Organic Oatmeal Whole Wheat

Pancake Mix. Grain mix: organic whole wheat flour, rolled oats. The finished pancakes have a slight "chew" from the oat flakes in the batter, a nice touch. The finished pancakes are too salty and taste a little "floury."

Organic Spelt Pancake Mix

.

The pancakes are light-textured with a very light grain flavor, good for whole grain beginners or kids. Slightly too salty.
Acknowledgements: Thanks to all of the companies who chose to participate. This article would not have been possible without the tireless persistence of Erika Meller.
Go To The Pancake Mix Reviews Index
© Copyright 2005- 2015 Lifestyle Direct Direct, Inc. All rights reserved. Images are the copyright of their respective owners.