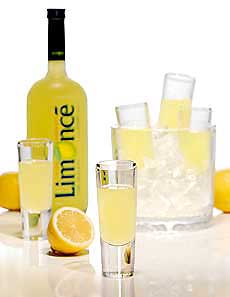 Limoncello
is a sunny, citrusy treat. It's delicious in mixed drinks or, as shown here, served as a cordial.

Limoncello Cocktails
Citrus-Based Cocktails Made With Limoncé Lemon Liqueur
Page 1: Cranberry Limoncello Cocktails
Limoncello is an Italian liqueur made from lemon rinds, alcohol, water and sugar. It's sweet, not sour, because no lemon juice or pulp is used. Limoncello has been enjoyed in Italy for close to a century, and is usually served ice cold after dinner, or in-between courses as a palate cleanser. You can make your own limoncello at home: an easy recipe is to steep lemon peel in vodka for a few weeks, then sweeten it with sugar syrup. A number of brands of limoncello are imported into the United States. We enjoyed these cocktails made with Limoncé brand limoncello (Italy's best-selling limoncello). Each cocktail is seductively delicious.
This is Page 1 of a five-page article. Click the black links below to view the other pages.
Limoncé Limon Blush
Fans of the Cosmopolitan Cocktail (vodka, triple sec, Rose's lime juice and cranberry juice) will enjoy this drink: It has common flavor elements, but is lighter, without the vodka.

Ingredients Per Cocktail

1 ounce limoncello
3 ounces lemonade
1/2 ounce cranberry juice
1/2 ounce soda water
1 lemon wedge

Preparation

Add all ingredients, except soda, to a
shaker with ice.
Shake vigorously and strain into a tall
glass filled with ice, top with soda.
Garnish with a wedge of lemon.




Tall drink + great taste + impressive color = festivity!
The Paradiso
Update the Screwdriver with sophisticated ingredients.

Ingredients Per Cocktail

1-1/2 ounces orange vodka
1/2 ounce limoncello
1/2 ounce Aperol or Campari
1 ounce fresh orange juice
Dried cranberries

Preparation

Add all ingredients to a shaker with
ice.
Shake vigorously and strain into a
chilled cocktail glass.
Garnish with dried cranberries on
a cocktail spear.




If you don't have cocktail spears, float the cranberries in the drink.
Go To Page 2: Herb-Accented Cocktails
Recipes © copyright courtesy Distillerie Stock USA Ltd. Other material © Copyright 2005- 2015 Lifestyle Direct, Inc. All rights reserved. Images are the copyright of their respective owners.