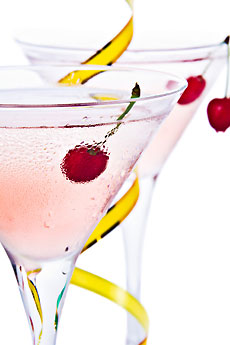 Cut calories with diet cocktail mixers. Photo by Avesun | IST.

Diet Cocktail Recipes
Low-Carb Cocktails Made With FUZE Slenderize
Page 5: Totally Tasty Tangerine Grapefruit
This is Page 5 of a six-page article. Click on the black links below to view the other recipes.
Cocktail Menu
Totally Tasty Tangerine Grapefruit
Ingredients Per Cocktail

1-1/2 ounces tequila*
1-1/2 ounces triple sec*
FUZE Tangerine Grapefruit
1 ounce grenadine
Crushed ice
Mint leaf for garnish

Preparation

Crush ice in a blender.
Add tequila, triple sec, FUZE and grenadine, and blend at low speed.
Pour into glass.
Garnish with a mint leaf.

*For dieters, halve the amount of alcoholic ingredients.


Tangerine Grapefruit FUZE Slenderize.
Continue To Page 6: Tropical Punch Escape
Return To Index At The Top Of The Page
Recipes courtesy FUZE. All other materials © copyright 2005- 2015 Lifestyle Direct, Inc. All rights reserved. Images are the copyright of their respective owners.