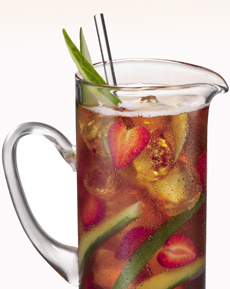 The combination of strawberry and cucumber is an exciting one. See the Cool Sparkler recipe below. Photo courtesy Sidney Frank Importing Co.
Saké Recipes
How About Some Saké Punch?
Overview
Here, for your entertaining pleasure, are saké punch recipes.
Punch is a general term for a broad assortment of mixed drinks, made with or without alcohol. While they generally contain fruit or fruit juice, fruit isn't essential. An elegant punch bowl is not required: A pitcher is fine, and in many cases, more practical.
Punch, which seems quintessentially British, actually was discovered in India by the British sailors of the East India Company. The concept was brought to England in the early 17th century. From there it spread to other countries.
The word "punch" is adapted from the Hindi word, "panch." In India, panch was made from five different ingredients: sugar, lemon, water, tea or spices and an alcoholic spirit. The word for "five" in Sanskrit is panchan; hence the name.
After carbonated water (soda water) became mainstream, some effervescence was added to the punch.*
Thanks to Gekkeikan, maker of Gekkeikan saké and Kobai plum wine, and to mixologist Todd Richman, for these recipes.
Recipes serve 4 to 6 people.
You will notice that the instructions ask to infuse the fruit and the saké for one hour or more. You can do it overnight if you like, and top off the recipe right before serving.
Find saké sangria recipes on the previous page.
*Carbonated water was introduced in the latter part of the 18th century.
Ginger Plum Punch
Ingredients

28 ounces plum wine

4 ounces Domaine de Canton ginger
liqueur

2 cups fresh honeydew melon, cubed

1 bunch fresh mint leaves

Ice cubes

7 ounces sparking saké*

*If you can't find sparkling saké, use regular saké. The sparkling variety adds some nice effervescence, but it isn't critical to enjoying the recipe.


Preparation

Combine the plum wine, ginger liqueur, melon and mint in a pitcher. Muddle lightly and let infuse for an hour or more.
Add ice, stir and top with sparkling saké.




Ginger plum punch, with ginger liqueur, plum wine and saké. Delicious!
Saké Berry Punch

Ingredients

½ cup fresh blueberries
½ cup fresh raspberries
1 bunch fresh mint leaves
4 ounces simple syrup
32 ounces saké
1 ounce ginger ale

Preparation

Lightly muddle the berries, mint and simple syrup.
Add the saké and let infuse for an hour or more.
Add ice, stir and top with ginger ale.




Zipang sparkling saké. Photo courtesy Geikkekan.
Cool Sparkle Punch

Cucumbers and strawberries are a delicious combination.

Ingredients

24 ounces plum wine
1 cup cucumber, thinly sliced
1 cup fresh strawberries, sliced
4 ounces honey (less if you prefer only a slightly sweet drink)
7 ounces sparking saké
Ice

Preparation

Muddle the cucumber, strawberries
and honey.
Add the saké and let it infuse.
Then add ice, stir and top with
sparkling saké.




Zipang sparkling saké. Photo courtesy Geikkekan.
Recipe copyright Hornitos Tequila.

Related Food Videos:



For more food videos, check out The Nibble's Food Video Collection.


© Copyright 2005- 2015 Lifestyle Direct, Inc. All rights reserved. Images are the copyright of their respective owners.