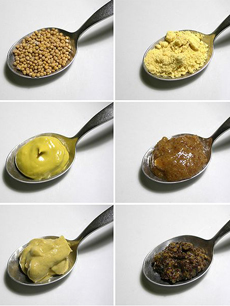 Different types of mustard. Clockwise from top left: whole seeds, ground mustard, Bavarian sweet mustard, black mustard (from black mustard seeds), Dijon mustard and yellow mustard, colored with turmeric. Photo courtesy Wikimedia.
March 2006
Last Updated July 2014

Different Types Of Mustard
Mustard Glossary Page 7: Types Of Mustard ~ N To Z
This is Page 7 of a seven-page glossary on the different types of mustard. To visit other pages, click on the black links below. If you'd like to suggest additional words for inclusion, click here. See all of our other food glossaries.
Celebrated the first Saturday of every August at the National Mustard Museum (formerly the Mount Horeb Mustard Museum).
POWDERED MUSTARD or GROUND MUSTARD
| | | |
| --- | --- | --- |
| Mustard powder can be ground from only yellow mustard seeds (some commercial brands add turmeric or saffron for a darker color and added flavor) or a combination of brown and white mustard seeds. Flavored powdered mustards (chili, peppercorn, chive, mint) also can be found, or can be made by adding dried flavorings to plain powdered mustard. Powdered mustard is mixed with liquid to form prepared mustard. It is also used in barbeque sauces and salad dressings. The added liquid engenders the chemical reaction that creates mustard oil, which carries the flavor. When reconstituting, the mixed mustard needs to stand for 15 minutes prior to use. When using the powder in a hot preparation, always add it toward the end of the cooking process. | | Powdered mustard is ground from whole mustard seeds. Photo courtesy SilkRoadSpices.ca. |
| | | |
| --- | --- | --- |
| A sharp-tasting, thick yellow or brown paste made of ground mustard seeds (see photo above) with vinegar or wine as a acidic fixative. Prepared mustard is then seasoned with salt and various spices, depending on the house blend. On top of this base, there are hundreds of varieties of flavored prepared mustards, incorporating other spices (peppercorn, ginger), herbs (tarragon, chive, garlic, parsley), fruits (raspberry), nuts (walnuts, hazelnuts), and other food products (horseradish, beets, roquefort cheese). Prepared mustard generally has about one-third to one-half the strength of dry mustard. | | Photo of prepared mustard atop a bed of mustard seeds by Saidi Granados | THE NIBBLE. |
If you like blue cheese and mustard, you'll love this. Actual Roquefort cheese is blended into the mustard, creating a delightful infusion of rich flavors to accompany meat and pasta dishes, canapés, hard-boiled eggs...even to use as a dip. It's hard to find, but keep checking online.

These flavors are especially nice to season salad dressings, or serve as a condiment with "gourmet" pigs in blankets.

One of the two chemical compounds that creates the heat in mustard. Also see myrosin.




Roquefort mustard. Photo courtesy Laurent duClos.
Any mustard sweetened with any traditional sweetener: honey, maple syrup sugar, or other product. If you're avoiding sugar, sweeten a regular jar of Dijon mustard with non-caloric sweetener.
A traditional match for white meats like chicken, turkey and pork. It's easiest to find online.
Used instead of lemon juice or vinegar, verjuice originated in Roman times; it was a staple of Parisian kitchens during the 14th and 15th centuries. An acidic, sour liquid made from the green juice of unripe grapes or other fruit, it will have different color and flavor based on the variety of grape or fruit from which it is made. Verjus is used in preparations like sauces and mustards. It heightens flavor without the harsher edge of vinegar. It has been used since medieval times; although out of fashion for many years, it is enjoying a renaissance.

Walnut and hazelnut mustards are excellent pairings for poultry, red meats, game, and salad dressings. They also enhance sandwiches, especially those that include cheese.




Verjus. Photo courtesy

FureurDesVivres.com.
Real wasabi is not a mustard but a root in the horseradish family. It is mixed with mustard to create the faux wasabi served in most Japanese mustards. And, due to the popularity of the wasabi flavor, there are conventional mustards mixed with wasabi. of See Japanese mustard.

See Japanese mustard.




Wasabi mixed with Dijon mustard and lime. Photo courtesy Terrapin Ridge.
| | | |
| --- | --- | --- |
| A style of mustard in which the seeds are not ground up before they are mixed with liquid (which is prepared mustard). It is also called moutarde à l'ancienne, old-style mustard. The seeds are smashed or mixed whole with liquid (beer, must, vinegar, water or wine), creating a textured mustard. Moutarde de Meaux Pommery, which dates to early 1600s, is the oldest known brand (prior to that, non-branded mustards were sold from vats by local condiment makers). Mustard seeds that are ground into powder but not mixed with liquid are dry mustard. | | Whole grain mustard. Photo courtesy Delouis Fils. |
© Copyright 2005-2015 Lifestyle Direct, Inc. All rights reserved. Images are copyright of their respective owners.