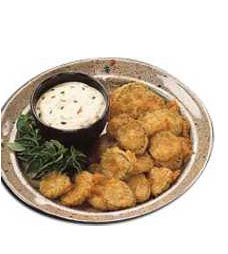 Fried pickle chips: another way to enjoy pickles. Photo and recipe courtesy ILovePickles.org.

Recipe: Fried Pickle Chips
Don't Throw Out The Rind: Turn It Into Delicious Watermelon Pickles
Looking for a fun new snack or tidbit to serve with cocktails?
Fried pickles—called frickles by some—are an easy and fun snack. Just batter pickle slices, fry and serve.
We headed to ILovePickles.org, the consumer website of Pickle Packers International (is Peter Piper is an honorary member?), for the recipe.
Dill pickle chips are most often used for frying, but you can also fry spears and whole pickles.
How many types of pickles can you name? Check 'em out in our Pickle Glossary.
Fried Pickle Chips Recipe
Because you've already bought the watermelon for its flesh, this recipe is almost a freebie (although you still have to buy the sugar, vinegar and spices).
Ingredients

1 cup all-purpose flour
1/4 cup cornstarch
1 teaspoon baking powder
1/4 teaspoon salt
1 tablespoon garlic powder
1 tablespoon paprika
1-1/2 teaspoons cayenne pepper
1 cup ice water
1 egg yolk
2 tablespoons dill pickle juice
4 cups drained dill pickle slices or equivalent amount of medium to large pickles, sliced 1/4-inch thick
Vegetable oil for frying




When life gives you pickles, make fried pickle chips. Photo by Michal Zacharzewski | SXC.
Your favorite dipping sauce: aïoli (try basil aïoli), blue cheese dip, ranch dressing, salsa, thousand island dressing (contains sweet pickle relish), yogurt-dill dip, etc.

Equipment
Large bowl
Wire whisk
Deep fryer or large saucepan
Paper towels
Preparation
Combine flour, cornstarch, baking powder, salt and spices in a large bowl.

Combine water, egg yolk and pickle juice in a cup. Pour all at once into center of dry mix. Stir with wire whisk to make a smooth batter. Cover bowl and refrigerate 30 minutes.

Heat at least 2 inches of oil to 375°F in a deep fryer or large saucepan. Pat the pickles dry so the batter will adhere.

In batches, dip pickle slices in the batter to coat evenly and lightly. Fry without crowding in hot oil until golden and crisp, 1-1/2 to 2 minutes. Drain on paper towels and serve immediately with dips.
Makes about 8 servings as an appetizer or side dish.
Variations
Bread the pickles in panko bread crumbs.
Fry whole pickles and serve on a stick. Pickle chips are neater, but a fried pickle on a stick is an experience.
In addition to an appetizer or snack, consider serving fried pickle chips as a side with dinner.
Photo and recipe © copyright National Watermelon Promotion Board. Other material

Related Food Videos:



For more food videos, check out The Nibble's Food Video Collection.


© Copyright 2005- 2015 Lifestyle Direct, Inc. All rights reserved. Images are the copyright of their respective owners.