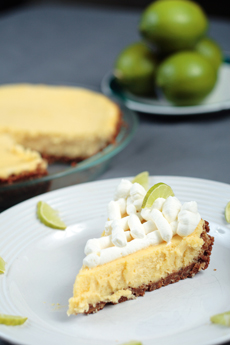 Authentic Key lime pie is yellow, not green (green means artificial food coloring and flavoring). Photo by David Hsu | Dreamstime.
August 2007
Updated September 2010

Recipe: Original Key Lime Pie & Key Lime Meringue Pie Pot De Crème
Easy Recipe For One Of America's Favorite Pies
Key Lime Pie Recipe
Note: This recipe fills a standard 9" pie pan. If you are using a disposable aluminum pan or a purchased graham cracker crust (which is generally made in a shallow aluminum pan), it will make two pies. You also can make tarts; the number will depend on the size of your tart pans. For one pie, divide the recipe in half.
Ingredients
1-½ tablespoons grated lime zest
1 cup fresh lime juice (about 20-22 Key limes or 8 to 12 Persian limes)
8 egg yolks, large or extra-large
2 cans (14 ounces) sweetened
condensed milk
Whipped cream (optional, and not to be used with meringue top)
Lime peel curls for garnish
(optional, and not to be used with meringue top)
Sauce of puréed blueberries, raspberries or strawberries, sweetened as needed (optional)
Crust

1.5 cups graham cracker crumbs
6 tablespoons granulated sugar
1 stick (8 tablespoons unsalted
butter) melted


This Key lime pie is a glam, "gourmet"
version with a coconut pecan crust, served with blueberry coulis. Add the "dots" to the top of the pie with a squeeze bottle, available at any cosmetics counter. Photo by Greytown | CST.

If you want to hide that delicious Key
lime under a layer of meringue, here's
how. Photo by HD Connelly | Dreams-
time.

Meringue (Optional)

Meringue was not part of the original Key lime pie recipe, but a newer addition. We prefer ours without the meringue—we think it gets in the way of the pure, fresh lime flavor. Perhaps it is a better addition to pies made with bottled lime juice.

But meringue Key lime pie has many fans, and meringue is easy to make, so here's the recipe:

8 egg whites
½ teaspoon cream of tartar
1/3 cup confectioners' sugar

Directions follow.
Preparation For Key Lime Pie
Preheat the oven to 325°F. Grate the lime zest, then squeeze the juice. Beat the egg yolks until they are thick and light yellow.
Add the sweetened condensed milk. With the beaters on low, add the lime juice, blend and incorporate the other half. Stir in the lime zest. Set the mixture aside to thicken.
Make the crust: Mix the graham cracker crumbs and sugar with a fork, then add the melted butter and stir until well blended. Press firmly into the bottom and sides of a 9" pie plate. Bake for 10 to 12 minutes on the center rack of the oven until lightly browned; remove and cool on a rack.
Pour the lime filling into the crust, spread evenly. If you are making meringue, continue with the meringue directions, below.
Bake for 12 to 15 minutes until the center sets (it should still wiggle when shaken). DO NOT OVERBAKE—the pie will get rubbery.
Remove from the oven and cool on a rack; then refrigerate for at least three hours. Garnish with whipped cream and a curl of lime peel and drizzle the plate with a sauce of raspberry or strawberry purée. Add some lime or lemon juice to the purée as needed for flavor.
For The Meringue
In a very clean bowl, beat the egg whites to a soft peak. Add the cream of tartar and continue to whip the whites to a stiff peak.
Add the confectioners' sugar, continuing to whip until the meringue forms stiff peaks.
Top the Key lime custard with the meringue, making decorative peaks.
Bake for 15 to 30 minutes at 350º F, until the meringue has a nice color with browned edges. Check with a cake tester to be sure the custard is set. A meringue pie bakes for a longer period because the meringue has an insulating effect on the custard below it (think Baked Alaska).
Continue To Page 3: Key Lime Pot de Crème
© Copyright 2005-2015 Lifestyle Direct, Inc. All rights reserved. Images are the copyright of their respective owners.