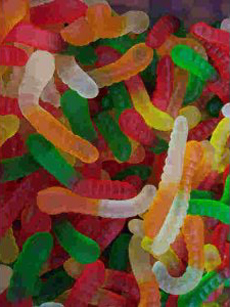 Gummy worms may not be adult fare, but they certainly charm the kids—especially in a Dirt Cake With Gummy Worms. You can purchase these at
Amazon.com
.

Recipe: Dirt Pudding Or Dirt Cake With Gummy Worms
Spelled It Gummy Or Gummi: Kids Love Desserts With Gummy Worms

Introduction

How would you celebrate National Gummy Worm Day (July 15th)?

With a dirt pudding or dirt cake—the dirt being brown cookie crumbs.

But you don't need to schedule this dessert for the middle of July: Kids love it anytime!

The Dirt In A Box recipe (see photo at right) was created by Ruby Foo's restaurant in Times Square, New York City. It's a no-cook "dirt pudding" or trifle, decorated with Gummy Worms.

You can make the recipe more elaborate, or turn it into a dirt cake, by preparing it in a small casserole or cake pan. Our preference is to use a small, clean flowerpot (we ran ours through the dishwasher).




"Dirt In A Box," created by Ruby Foo's to celebrate National Gummy Worm Day.
Another idea: Bake a single layer of chocolate cake and use this recipe as the topping.
Whatever the container, you can add marzipan animals, flower lollipops and other garden-appropriate garnishes. Consider turning the decorating into a fun project for kids, after you've made the basic recipe.

Dirt Pudding/Dirt Cake & Gummy Worms Recipe
If serving this recipe to adults, feel free to rename it "Garden Cake."
Ingredients
Preparation
Cream together butter, cream cheese and powdered sugar.
In a separate bowl, combine milk, pudding mix and Cool Whip.
Combine cream cheese and pudding mixtures.
Layer ground cookies ("dirt") and pudding mixture in serving container, beginning and ending with dirt. Decorate as desired; hang a worm over the side of container. Chill 3 to 4 hours before serving.
If making a Dirt Cake, begin with pudding mix, then dirt layer, ending with a dirt layer.
Gummy History
Gummi Bears were first produced by Haribo, a Bonn, Germany, confectioner. Founder Hans Riegel invented the Dancing Bear, a fruit gum made in the shape of a bear, in 1922. It was succeeded in 1967 by what would become known worldwide as Gummi Bears, which would spawn an entire zoo of gummi animals.
Gummi Worms, however, were introduced by Trolli, another gummi candy manufacturer, in 1981. Many Americans choose the more familiar spelling, Gummy Worms—plus Gummy Bears and Gummy Just About Everything.
© Copyright 2005- 2015 Lifestyle Direct, Inc. All rights reserved. Any images are the copyright of their respective owners.