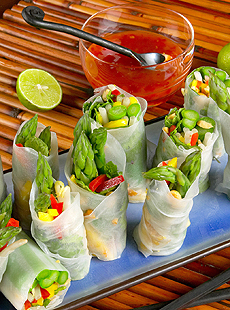 Asparagus Spring Rolls With Sweet Red Chili Dipping Sauce are a fresh, healthy vegetarian lunch option. Photo courtesy California Asparagus Commission.

Product Reviews / Main Nibbles / International Foods
Asparagus Recipes
Page 5: Asparagus Spring Rolls With Sweet Red Chili Dipping Sauce


Spring rolls may seem exotic, but they are easy to make and always a crowd-pleaser. Serve them as a first course for dinner and as healthy snacks and cocktail snacks. This is Page 5 of a 12-page article. Jump to the recipe below. Click the black links below to view the other pages.
Index
On The Menu
Breakfast/Brunch:
Lunch:
Dinner Entrees:
Asparagus Sides:
Asparagus Spring Rolls With Sweet Red Chili Dipping Sauce
Recipe yields 18-24 rolls. Note that this type of unfried roll in rice paper a summer roll, whereas spring rolls have a dough wrapper and are fried—a thinner version of egg rolls. See the difference and take a look at another spring roll recipe.
Spring Rolls Ingredients
1 pound asparagus
3/4 cup fresh mint leaves
3/4 cilantro leaves
1 mango or papaya
Fresh ginger, 2-inch piece
1/2 red bell pepper
1/2 cup dry roasted, salted peanuts, chopped
2 cups fresh bean sprouts
8-inch Vietnamese dried rice paper spring roll wrappers, 6 to 8 sheets
(available in any Asian market)
Dipping Sauce Ingredients
1/4 cup store-bought Asian sweet chili sauce
Juice of 1 lime
Preparation
To prepare filling, blanche asparagus in boiling salted water until tender to the bite, 3 to 5 minutes.
Peel and julienne mango or papaya and ginger. Julienne bell pepper. Set aside with remaining filling ingredients.
To assemble, fill a large bowl with hot water. Working with one wrapper at a time, slip rice paper wrapper into water until pliable, about 1 minute. Place wrapper on cutting board. In the center, put 3 to 4 asparagus spears with the tips coming off the end of the wrapper slightly, 3 to 4 mango or papaya slices, 3-4 pepper slices, 3 tablespoons sprouts, 2 tablespoons herbs, and a sprinkling of ginger and peanuts.
Roll the wrapper from the bottom up, tightly. Leaving the ends open. Set aside and cover with a damp towel. Finish with remaining wrappers.
When ready to serve, slice wrappers into 3 segments each and stand upright on a serving platter. Mix chili sauce and lime juice together. Serve alongside the rolls as a dipping sauce.

Continue To Page 6: Fresh Asparagus & Smoked Salmon Sandwich
Recipe courtesy California Asparagus Commission. All other materials © copyright 2005- 2015 Lifestyle Direct, Inc. All rights reserved. Images are the copyright of their respective owners.