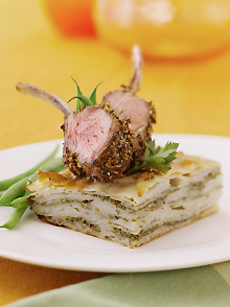 Rack of lamb atop a potato napoleon. The rack is the unsplit rib of the lamb. Learn about the different cuts of lamb in our Lamb Glossary.
Photo © Jill Chen | IST.

Recipe: Rack of Lamb With Quinoa-Hazelnut Crust & Mint Pesto
Multi-colored quinoa and hazelnuts are used to create a flavorful and nutritious crust for lamb. The earthy, nutty flavor is complemented by a cooling mint pesto and yogurt sauce.
Yields 6 servings.
Ingredients
2 tablespoons red quinoa
2 tablespoons white (pearl) quinoa
1/2 cup water
1/4 cup plus 1 tablespoon finely
chopped toasted hazelnuts, divided
2 racks of lamb (about 1 pound each)
3 tablespoons olive oil, divided
1 teaspoon sea salt
1/4 teaspoon coarsely ground black
pepper
2 teaspoons lemon juice
2 tablespoons mint flakes
1/4 teaspoon garlic salt
1 cup plain Greek-style yogurt

Nutritious, whole-grain quinoa is taken to new heights when paired with the cool taste of mint.

Preparation
Preheat oven to 450°F.
Rinse quinoa; drain well. Bring quinoa and water to boil in small saucepan on medium-high heat. Reduce heat to low; cover and simmer 13 minutes or until liquid is absorbed, stirring occasionally.
Spread cooked quinoa on baking sheet to cool. Stir in 1/4 cup of the hazelnuts. Set aside.
Brush racks of lamb lightly with 1 teaspoon of the oil. Sprinkle with sea salt and pepper. Coat lamb with quinoa mixture, pressing firmly to adhere. Place lamb on roasting rack in foil-lined shallow roasting pan. Drizzle with 2 teaspoons of the remaining oil.
Roast lamb in oven 20 to 25 minutes or until desired doneness.
Meanwhile, create Yogurt Sauce. Mix remaining 2 tablespoons oil, remaining 1 tablespoon hazelnuts, lemon juice, mint flakes and garlic salt in small bowl until well blended. Stir 1 teaspoon of the pesto into yogurt.
To serve, carve lamb into chops. Drizzle with remaining pesto. Serve with Yogurt Sauce.
Recipe © 2008 McCormick. All rights reserved. Other material © Copyright 2005- 2015 Lifestyle Direct, Inc. All rights reserved. Images are the copyright of their respective owners.