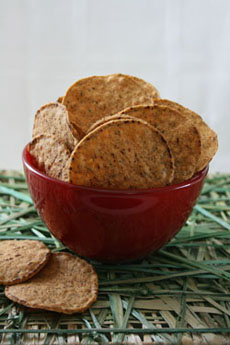 Falafel chips are new and exciting. Photography by Hannah Kaminsky | THE NIBBLE.
KAREN HOCHMAN is Editorial Director of THE NIBBLE.

Flamous Falafel Chips
Enjoy Falafel In Crispy Chip Form


CAPSULE REVIEW: Falafel lovers are in luck: You can now enjoy falafel in chip form. The line is all natural, kosher, and gluten-free; the plain chips are also available in an organic version. They are relatively low in sodium—100mg per one-ounce serving. This is Page 1 of a two-page article. Click on the black links below to visit Page 2.
Overview
Man has been growing chickpeas (garbanzo beans), the main ingredient in falafel, for more than 20,000 years, making them an early staple of the human diet and one of the first cultivated agricultural products on earth. While those early humans didn't mash their chickpeas into spiced patties, deep fry them and pop them into a fresh pita with salad and a yogurt-tahini sauce (hot sauce optional), their ancestors did, creating generations of falafel lovers.
Now, lovers of a warm, savory falafel sandwich can revel in falafel, the snack chip. Get ready to take a crunch out of the first line of Falafel Chips, made from 100% vegetarian falafel patties. Made from chickpeas plus corn and a deft layering of other vegetables and seasonings, they are high in protein and fiber, just like falafel, and have great falafel flavor. Even better, you don't need to hit a falafel stand: Packaged in a bag, they're a portable snack that you can reach for anytime.
Flavors

The chips are available in "original" and two additional natural flavors. Organic chips are available in "original" and chipotle. They are a blend of 15 vegetables and herbs, starting with corn and chickpeas, and layering other veggies and herbs that you can see flecked in the chips.

Falafel Chip tastes just like falafel, if it had been turned into a chip. The corn and chickpeas are joined by carrot, celery, cumin, coriander, basil, garlic, ginger, marjoram, onion, parsley, red bell pepper, red chili pepper, spinach and tomato, plus sea salt.
Sesame Falafel Chip adds sesame to the mix, but it isn't overly "sesame" tasting, and it does take away from the falafel-ness of the basic chip. Try this flavor after you've tasted the original.

The perfect pairing: Falafel Chips and hummos.
Spicy Falafel Chip delivers a fine level of spice. The chip is a blend of organic vegetables and herbs, including beet root, marjoram, parsley, red chili pepper, spinach, carrot, tomato, celery, red bell pepper, onion, garlic and ginger, topped off with just the right amount of jalapeño chile, plus sea salt.
Organic Falafel Chips. We actually got much more falafel flavor from the organic chips than the natural chips...and ate almost half the bag! The organic blend includes the corn and chickpeas plus basil, carrot, celery, cumin, coriander, garlic, ginger, green bell pepper, marjoram, onion, parsley, red bell pepper, tomato, spinach and white pepper, plus sea salt.
Continue To Page 2: Serving Suggestions
Recent Articles From Our NutriNibbles™ News Feed:
Subscribing notifies you whenever there are
new additions to the NutriNibbles™ section.

Subscribe to THE NIBBLE™ NutriNibbles™ by Email
© Copyright 2005-2015 Lifestyle Direct, Inc. All rights reserved. Images are the copyright of their respective owners.