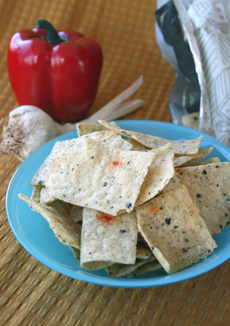 You can actually see what makes these Olive & Caper tortilla chips taste so good. Photo by Hannah Kaminsky | THE NIBBLE.
CHRISTINA GONZÁLEZ is an Editorial Intern at THE NIBBLE.

A More Flavorful Tortilla Chip
Page 2: The Flavors Of Laurel Hill Tortilla Chips
This is Page 2 of a two-page review of Laurel Hill flavored tortilla chips. Click on the black link below to view other pages.
Flavors Of Laurel Hill Tortilla Chips
Laurel Hill chips are made in four flavors to fit any snack mood: Multigrain, Olive & Caper, Pepita & Spice and Sea Salt & Lime. They range from classic tortilla chips to Mediterranean-influenced; one even includes a hint of sweetness. They're also certified kosher, are gluten-free and, as with all chips, vegan. All the ingredients are pronounceable and familiar, and we appreciate that there's nothing artificial or hydrogenated in the bunch.
Multigrain Tortilla Chips

Laurel Hill puts a tasty, healthier twist on the classic tortilla chip with their multigrain version. Thick and crunchy, the chips have a nutty flavor due to the combination of chia, flax and sesame seeds baked into the chips. The chip has a full-bodied crunch and hearty texture from brown rice, corn bran, quinoa and potato. These contain 3g of fiber, which is 11% of the recommended daily amount, as well as Omega-3s from the chia.

Eat them right out of the bag or with your favorite red or green salsa. These multigrain chips will please any tortilla chip fan, and might win over those who are looking for a healthier chip packed with good stuff.




Multigrain tortilla chips. Photo by Hannah Kaminsky | THE NIBBLE.
Olive & Caper Tortilla Chips
Inspired by their offerings of jarred capers and olives, Laurel Hill's Olive & Caper chips are savory and versatile. Their flavor takes you to the Mediterranean with the distinct olive flavor, lightly lemony caper and blend of garlic, onion, red peppers, salt and spices.
Good for eating directly, or with your favorite salsa, these are more versatile than the other chips. Dip in olive tapenade or creamy or cheesy dips, or use as a base for an assortment of canapés at your next party. These would also be great topped generously with hummus or cheeses like Feta or chévre.
Pepita & Spice Tortilla Chips

If you're in the mood for something different in your tortilla chips, this is for you. As soon as you open the bag, the aroma of pumpkin and spices hits your senses. This combination is a quite unexpected, but pleasant surprise. You can actually see the pepitas (pumpkin seeds) baked right into the chip. The blend is complex from first crunch: a slightly nutty pumpkin flavor and a hint of sweetness from the spices, capped off with a sprinkle of salt.

Eat these with medium to extra hot dips and salsas, because the sweetness will help balance out a bit of heat. With 160 calories and no sugar per eight-chip serving, they might help tide over pumpkin pie cravings (or not!). These would also be great as a snack along with hot chocolate or perhaps even served alongside ice cream.




Pepita & Spice tortilla chips. Photo by Hannah Kaminsky | THE NIBBLE.
Sea Salt & Lime Tortilla Chips
For those who prefer a more traditional corn chip, the Sea Salt & Lime flavor doesn't sport any of the seeds or grains of the other varieties. These are the most classic tortilla chips in the line. As soon as you open the bag, you'll be greeted with the aroma of freshly squeezed lime. Flavored with natural lime oil and a hint of tamari (an aged soy sauce), then finished with sea salt, the combination is fresh, but never overpowering.
Serve them with your favorite salsas or even black bean dip; these also pair well with a good beer.
Laurel Hill Tortilla Chips

Multigrain, Olive & Caper, Pepita & Spice and Sea Salt & Lime

Gluten-Free & Certified Kosher By cRc


Buy online at Amazon.com

Laurel Hill chips are also available in markets across the country, including Whole Foods and other fine retailers. Find out where to purchase in stores at LaurelHillFoods.com.

All the flavors of Laurel Hill Chips. Photo courtesy Laurel Hill.
Prices and product availability are verified at publication but are subject to change. Shipping is additional. These items are offered by a third party and THE NIBBLE has no relationship with them. Purchase information is provided as a reader convenience.
Recent Articles From Our NutriNibbles™ News Feed:
Subscribing notifies you whenever there are
new additions to the NutriNibbles™ section.

Subscribe to THE NIBBLE™ NutriNibbles™ by Email
© Copyright 2005-2015 Lifestyle Direct, Inc. All rights reserved. Images are the copyright of their respective owners.