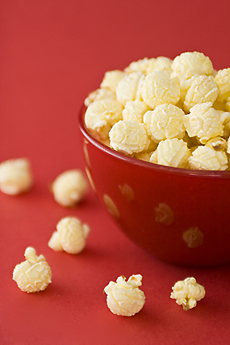 Sure, Gary Poppins will send you fine plain popcorn. But with 22 flavors, it's time to spread your wings and give gourmet flavored popcorn a try. Photography by Saidi Granados.
EMILY CHANG is an intern at THE NIBBLE.

Gary Poppins Gourmet Flavored Popcorn
Page 3: Chocolate Popcorn


This is page 3 of a 5-page article. Click on the black links below to view the other pages.
Chocolate Popcorn Flavors
Anyone who likes chocolate will enjoy these dark chocolate and white chocolate popcorn choices. In fact, you don't have to choose: Tuxedo Popcorn combines both chocolate and white chocolate popcorn in one bag or tin.
Chocolate Marshmallow Popcorn
One of our tasters mused, "It's like he fused popcorn and marshmallow into one!" We couldn't agree more. Gary Poppins works some of his best magic and leaves us wanting s'more—s'more popcorn, specifically. (If you're a s'mores fan, read our article on gourmet s'mores.)
Chocolate Oreo Popcorn
Chunks of Oreo cookies combined with chocolate-coated popcorn: What's not to like about that? You'll never be satisfied with simply dipping Oreos in milk once you've had them fused with Gary Poppins' chocolate-coated popcorn kernels.
Chocolate Peanut Butter Popcorn
Gary Poppins spins another classic candy combination into popcorn. But instead of a cloying peanut butter cup (even a great gourmet peanut butter cup can be a bit rich), you get the pleasant sensation of eating sweet chocolate and peanut butter with light, fluffy corn kernels. This should be a first choice for anyone craving lip-smacking peanut butter flavor.
Dark Chocolate Popcorn
Gary Seltzer loves dark chocolate almost as much as he loves popcorn. His fixation is apparent from the first bite. The chocolate coating is generous enough to satisfy any chocolate craving.
Tuxedo Popcorn
A stunning combination of white and dark chocolate popcorn (the "tuxedo" colors). This popcorn is all dressed up for a date—with your stomach.

Tuxedo Popcorn is half dark chocolate popcorn, half white chocolate popcorn.
White Chocolate Popcorn
Delicate white chocolate flavor provides a milky, sweet background for the chewy kernels. White chocolate can be extremely sweet, but this is a quality brand. Combine it with popcorn, and it's lip-smacking without a sugar overload.
White Chocolate Oreo Mint Popcorn
Minty, sweet, crumbly, chocolatey...pop one piece in your mouth and prepare to let each layer of flavor wash over you. The Mint Oreo cookie crumbles add a green patina to this popcorn, making it a festive choice for St. Patrick's Day.
White Chocolate Peppermint Popcorn
This creation (one of two Gary Poppins seasonal flavors, along with Pumpkin Spice) is a welcome alternative to peppermint bark.
Want sweet popcorn that isn't chocolate? Gary Poppins is happy to oblige.
Continue To Page 4: Sweet Popcorn Flavors
© Copyright 2005-2015 Lifestyle Direct, Inc. All rights reserved. Images are the copyright of their respective owners.