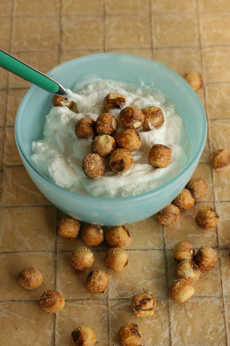 Crunchy, buttery pretzels. All photography by River Soma | THE NIBBLE.
KAREN HOCHMAN is Editorial Director of THE NIBBLE.

H. K. Anderson Pretzels
Page 2: Pretzels As Crunchy "Ingredients"
This is Page 2 of a three-page review. Click on the black links below to visit other pages.
Types Of H. K. Anderson Pretzels & How To Use Them
We were so satisfied with the varieties of H. K. Anderson's pretzels that we look forward to more varieties.
But let's take a look today's options, and how to enjoy them more often than a snack from the bag.
Peanut Butter Pretzel Nuggets
Many people enjoy dipping pretzel sticks into peanut butter. H. K. Anderson's Peanut Butter Nuggets make the combination much neater to enjoy in bite-size nuggets (see photo at top of Page 1). Serve Peanut Butter Pretzel Nuggets:
With soup and sandwiches. They pair well with many types of sandwiches, and can be served with soup instead of crackers or as croutons.
As a snack. With a glass of nonfat milk.
As a pie crust. Crush the nuggets and use them as a crust for apple pie or cheesecake.
With cheese. Add them to the cheese board along with nuts and fruits.
Baked Pretzel Balls

How did a pretzel get so buttery? These butter balls are an irresistible combination of pretzels and buttered popcorn.

The shape is also irresistible: so cute, you just can't help but gobble them up.

In addition to snacking from the bag, serve Pretzel Balls as a garnish for everything, including:

Cottage Cheese
Ice Cream
Salad
Soup
Yogurt




Pretzel balls: We love them.
Honey Twists & Pretzel Stix

Sweet Honey Twists (shown in the photo), almost as wide as your finger, and ultra-thin Salty Stix are at the opposite sides of two spectrums.

Both can be used for:

Scooping up dip
Salad garnishes
Soup cracker substitutes
Chocolate fondue dippers

The Honey Twists can be served with hot chocolate or tea; and pair well with ice cream.

Hats off to the anonymous monk who started it all. Where would we be without delicious pretzels?




Honey Twists: Delicately sweet with a bit of salt.

We'll say a prayer of thanks.
H. K. ANDERSON PRETZELS

Braided Twists, Peanut Butter Filled Nuggets, Pretzel Balls, Salty Stix

Certified kosher (dairy) by OU

10-Ounce Bag
$1.79

Case Of 16 Bags
$25.78
3.5-Ounce Bags
Available At Retailers

Purchase online* at HK-
Anderson.com.

Find the store nearest you with the Store Locator or at select
markets nationwide.

*Prices and product availability are verified at publication but are subject to change. Shipping is additional. These items are offered by a third party and THE NIBBLE has no relationship with them. Purchase information is provided as a reader convenience.


Photo courtesy H. K. Anderson.



Continue To Page 3 For The Pretzel History Timeline
READ MORE REVIEWS OF OUR FAVORITE
SNACKS


Related Food Videos:



For more food videos, check out The Nibble's Food Video Collection.


© Copyright 2005-2015 Lifestyle Direct, Inc. All rights reserved. Images are the copyright of their respective owners.