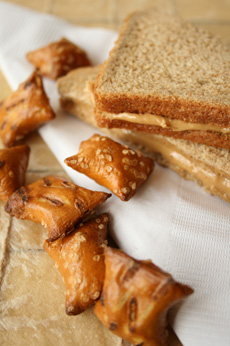 Have some Peanut Butter Nuggets with your peanut butter sandwich. All photography by River Soma | THE NIBBLE
.
KAREN HOCHMAN is Editorial Director of THE NIBBLE.

H. K. Anderson Pretzels
A Favorite Snack In Four Tasty Forms
CAPSULE REPORT: All pretzels are reasonably good, but some pretzels are better: better ingredients, better imagination. One of our new favorites is the pretzel line from H. K. Anderson. The products are certified OU Kosher. We only wish there were more whole wheat options. What better way can one imagine to work toward's one 48g daily whole grain quota than with prezels? This is Page 1 of a three-page review. Click on the black links below to visit other pages.
Pretzel History
Pretzels were created in 610 C.E. by a European monk whose name is lost to history. Food historians trace him to Italy or Southern France.
He formed leftover bread dough in a shape that represents children's arms folded in prayer. The baked pretzels were given as a reward to children who had successfully memorized their prayers. The original word for pretzels, "pretiola," is Latin for "little reward." The treat spread beyond religious school and became a popular snack in much of Europe.
Fast-forward from the 7th century to the 17th. According to the Encyclopedia of American Food and Drink, pretzels most likely arrived in America with Dutch settlers. One story from 1652 says that a settler named Jochem Wessel was arrested for using scarce white flour to make pretzels to sell to the Indians while fellow settlers were eating bran flour. More pretzels (sometimes called bretzels) arrived with German immigrants in the latter half of the 19th century.
The first mention of "pretzel" in print in America is circa 1824; the first commercial pretzel bakery in the United States, Sturgis Pretzel, was established in Lititz, Pennsylvania in 1861 by Julius Sturgis and Ambrose Rauch. (It's still in business.) The pretzel twisting machine, introduced in 1933, meant that pretzels no longer required hand-twisting and could be mass-produced.
You can see a more detailed pretzel history on Page 3.
And April 26th has been established as National Pretzel Day. You can, of course, enjoy this snack every day of the year—especially in healthier whole-wheat varieties that are better for you than other crunchy snacks.
H. K. Anderson Sets Up Shop

Lancaster County, Pennsylvania, then became a hotbed of pretzel-making.

In 1888, H. K. Anderson started a storefront bakery in Lancaster, which included hand-twisted pretzels baked in brick ovens. Today it is a brand of the privately-held National Pretzel Company.


And the company has put a nice spin on some very tasty treats. In additional to the familiar thin Salty Stix, there are Honey Wheat Braids (whole wheat; shown at the bottom of the photo at right). Peanut Butter Nuggets (shown at the top of the photo at right), as well as what just might be our favorite, Double Baked Butter Balls (shown in the photo at the top of Page 2).

These pretzels are not just "snacks." They become ingredients in, or accompaniments to, some of our favorite foods.




Choose between several tasty varieties.
Continue To Page 2 For Pretzel Serving Suggestions
READ MORE REVIEWS OF OUR FAVORITE
SNACKS


Related Food Videos:



For more food videos, check out The Nibble's Food Video Collection.


© Copyright 2005-2015 Lifestyle Direct, Inc. All rights reserved. Images are the copyright of their respective owners.