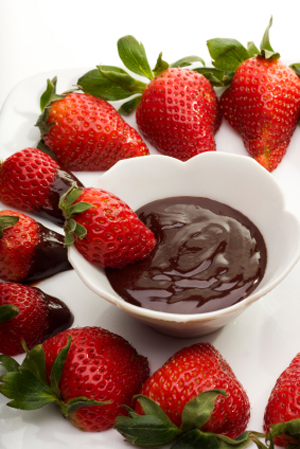 For a simple yet luscious dessert, dip fresh fruit into a top-quality chocolate sauce. Photo by Robert Linton | IST.
WHAT IT IS: Top quality dessert sauces: chocolate sauce (fudge sauce) and caramel sauce.
WHY IT'S DIFFERENT: Beyond the obvious high quality of the ingredients, the flavored varieties are deftly done. For example, Peanut Butter Chocolate Sauce has just the right amount of PB.
WHY WE LOVE IT: It makes the creation of glamorous desserts easy—and it's a great chocolate (or caramel) fix.
WHERE TO BUY IT: SassySauces.us.

Sassy Sauces: Chocolate Sauce, Caramel Sauce & More
CAPSULE REPORT: Some people think chocolate sauce and caramel sauce are meant only for ice cream.
While that's a good start, a fine dessert sauce is so much more than an ice cream topping. It can transform an everyday brownie into a deluxe dessert, it can be a dipper for fresh strawberries or it can be a garnish that makes your desserts look like those from fine restaurants.
We were thrilled to discover Sassy Sauces, a line that currently has four chocolate sauces—Bittersweet Chocolate, Milk Chocolate Caramel, Peanut Butter Chocolate and Spicy Dark Chocolate—plus Rum Caramel sauce.
In a category where so many products are cocoa-flavored corn syrup, Sassy Sauces truly stand out. Quality counts: The first taste of these premium sauces shows that they're made of the finest-quality chocolate. The recipes are so good that you can eat them from the jar like fudge (or a caramel) when you need a quick candy fix.
It's National Ice Cream Month; so while we pour chocolate sauce and caramel sauce atop ice cream in a daily ritual of celebration, we're also testing the many other ways we can use Sassy Sauces. From stuffing French toast to rolling truffles, we're having a great time.
As with last week's Top Pick, the stylish jars are welcome house gifts, gift basket components and stocking stuffers.
Read the rest of the review to see how we used the sauces. Start with the article index below.