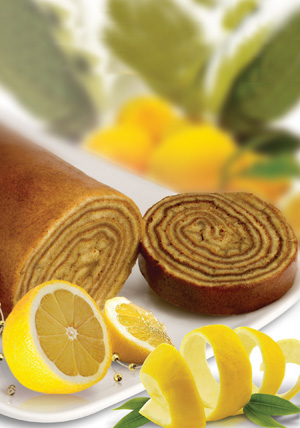 In a rectangle or a roll, the many layers have great eye appeal. And they're delicious. All cake photography courtesy Euforia Confections.
WHAT IT IS: A delicate cake of 12 or more ultra-thin layers.
WHY IT'S DIFFERENT: Tender with luscious flavors of lemon, spice or vanilla.
WHY WE LOVE IT: Delicious, different, charming and a great gift.
WHERE TO BUY IT: From the company and on Amazon.com.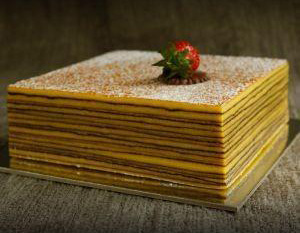 A whole cake makes a beautiful presentation for a dinner party, and is a lovely gift.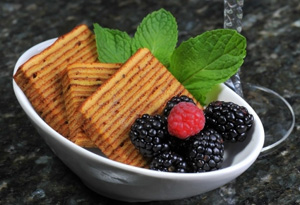 You can purchase individually-wrapped slices that are perfect for convenience and portion control. Just one is very satisfying, and just perfect with coffee or tea.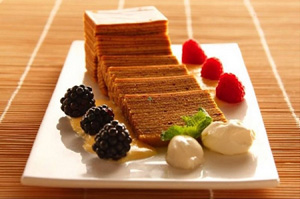 Serve plain, with berries, ice cream, or both.
Euforia Thousand Layer Cake, Delicious & Gluten Free
Jump to the article index below
Thousand year old cakes are like thousand year old eggs:* The number is highly exaggerated. But that doesn't detract from their enchantment. That Euforia cakes have as few as 12 layers takes nothing from their visual or palate appeal.
Each thin, delicious layer is individually baked by artisans in Tucson, delivering moist texture and excellent lemon, spice or vanilla flavor. A special treat or gift, they're also gluten free. We became so accustomed to enjoying one small slice a day that now, a day without Euforia is like a day without euphoria.

We've never baked a 12-layer cake, and marvel at the technique that bakers had three centuries ago—without temperature-regulated ovens—to make so many ultra-thin layers and turn them into one even-looking cake. In our modern kitchen, we lack the patience, much less the skill, to even try. (You can see a Smith Island cake—much thicker layers—being made in painstaking fashion in this photo gallery.)
The thousand layer cake recipe originated in the colonial Dutch East Indies, now Indonesia; the Dutch name is spekkoek† (which means bacon cake—see why at the end of this column). The tender cake and Indonesian spices created a tantalizing balance of texture, flavor and visual appeal.
This is "anytime" cake: Enjoy a slice with coffee, tea, Madeira, Port, Sherry or a favorite dessert wine. To make a more elaborate dessert, add custard sauce, whipped cream or ice cream, berries or berry purée.

What's In Those Thousand Layers
Whether you choose the rectangular cake, the roll or the individually wrapped slices, what charming cake Euforia has created: an all-natural confection of butter, eggs, gluten-free flour, milk, sugar, spices, vanilla and a dash of salt. The result: a buttery, tender crumb with great natural flavors:
Euforia Lemon Cake has the refreshing citrus zing of fresh lemon juice.
Euforia Spice Cake has a lively spicing of clove, nutmeg and brown sugar.
Euforia Vanilla Cake is redolent of high quality vanilla, rendering the phrase "plain vanilla" irrelevant.

Cake Formats
You can enjoy Euforia in three different styles:
It's easy to buy the cakes online. Because no cold shipping or special packing is required, shipping costs are modest.
The shelf life is three weeks at room temperature, two months in the fridge or four months in the freezer.
Other Many-Layered Cakes
Thousand island cakes are one of three types of cake we know of that sport an impressive number of layers. Here are the two others to put on your radar:
Mille Crêpe
Mille crêpe (pronounced meel-crehp) is a delicate cake made from very thin pancakes (crêpes). The crêpe layers are sandwiched with cream, requiring refrigeration. The word mille is French for "one thousand." Here's a photo and a recipe.

Smith Island Cake
Like chocolate fudge icing? This may be the cake for you. A specialty of Smith Island, off the shore of Maryland in Chesapeake Bay—and the official cake of Maryland—the cakes have six to 15 thin layers—traditionally, yellow cake with chocolate fudge filling and icing. Both the cake and the icing use evaporated milk. Originally, the cake, which may date back to the settlers of the late 1600s, had four layers. But through one-upsmanship, the island's bakers piled on the layers. You can get the cakes via mail order. In keeping up with cake trends, they are now made in more than 20 flavors, from peanut butter to red velvet.
A Great Gift
Euforia thousand layer cakes ship really well, no matter what the weather; it can be stored at room temperature. It's a gift (or a family treat) that no one will forget.
They say money can't buy happiness, but it can buy Euforia (right here).
— Karen Hochman