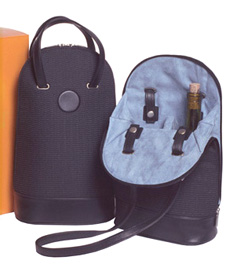 This handbag-quality tote with a padded, sueded interior with dividers nestles your precious bottles in transit.

Solle™ Wine Tote
Carry Cabernets In Style

Not your everyday Neoprene wine carrier, one item we have coveted for a long time is the elegant Solle Wine Carrier™. When we first saw it, we thought it was a handbag—it's made by a producer of fine handbags and totes, and it fits right in with the rest of the line.
This beautiful, lightweight zipper tote is outfitted to hold two bottles of wine. The padded, sueded interior (washable!) with a divider holds two bottles. Straps are adjustable so the bag can be carried by hand or over the shoulder.
An original design, the Solle Wine Tote is sold at dozens of Northern California's most prestigious wineries and wine clubs. It's hard to tell from the photo, but the quality of the crocodile-stamped leather couldn't be nicer.
Upscale yet unpretentious, it's a perfect gift for the connoisseur who totes wine bottles to fine restaurants or posh parties. The tote is featured in the gift boutiques of dozens of Northern California's most prestigious wineries and wine clubs. It can be embossed for corporate gifts.

There are five different leather options:

Black nappa leather with a burgundy sueded interior (photo at the right)
Black jacquard with leather trim and a light blue interior (photo at the top)
Black, red, or honey crocodile print with a tan interior (photos below)
We like them all, but the faux crocodile is especially classy. It's hard to tell from the photos, but made of fine Italian cowhide finished to mimic alligator skins, the bag croco print does a very good approximation of "the real thing."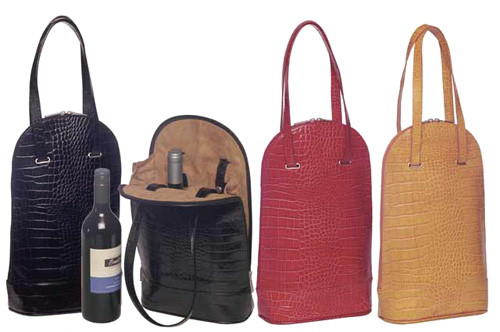 Crocodile-Printed Leather
The wine totes are nicely gift-boxed. The company makes matching laptop totes and handbags, so you can carry everything in style.
VALLA VISTA

Solle™ Wine Tote


Purchase online at
VallaVista.com.

Other sizes and styles are available.

Price and style availability are verified at publication but are subject to change.





Related Food Videos:



For more food videos, check out The Nibble's Food Video Collection.


© Copyright 2005- 2015 Lifestyle Direct, Inc. All rights reserved. Images are the copyright of their respective owners.