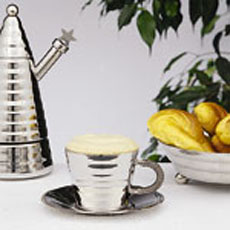 Our favorite espresso pot with a matching whistling tea kettle (the star is the whistle), cups, bowls, and other accoutrements is the Archimede line from Stella, beautifully crafted by Italy's Metallux. Available in the U.S. at ATouchofVenice.com.



Kitchenware
Great Appliances & Kitchen Gadgets
If you like to cook, you're certain to find some new toys here. Even if you're more of a hunter-gatherer, here are products that can make your everyday life—plus entertaining—much more easy and fun.
Product Reviews

Even before you've had your morning espresso, you'll be cheered awake by the FrancisFrancis! espresso maker in 10 cheery designer colors.


Editors' Gift Picks


Related Food Videos:



For more food videos, check out The Nibble's Food Video Collection.


© Copyright 2005-2015 Lifestyle Direct, Inc. All rights reserved. Images are the copyright of their respective owners.