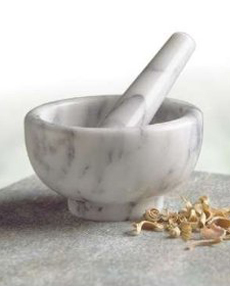 The original kitchen gadget: a mortar and pestle. Get this marble beauty at Amazon.


Gourmet Kitchen Gadgets
Favorite Specialty Kitchen Gadgets
In the course of preparing and tasting all of THE NIBBLE's gourmet food, we also test new kitchen gadgets. Here are the best of the new, cool, unique kitchen gadgets that we tried and kept. Click here to tell us about your favorite kitchen gadget.
| | | |
| --- | --- | --- |
| Everyday Needs | | Specialty Items |
| | | |
Nibble Tip

If you have a favorite kitchen gadget, give it as a gift. It may seem small, but if it does a big job, the recipient will be grateful to know about it. To make it a more important gift, package it with the food it's meant to help—e.g. a garlic peeler with imported French garlic or a silicone barbecue brush with gourmet barbecue sauces.

Why are we in love with our Blender Bottles?
Read the review.


Related Food Videos:



For more food videos, check out The Nibble's Food Video Collection.


© Copyright 2005-2015 Lifestyle Direct, Inc. All rights reserved. Images are the copyright of their respective owners.