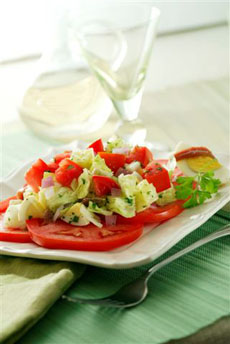 Chop your salad into tiny bites and every forkful will taste better. Photo courtesy of FloridaTomatoes.org.
LEAH HANSEN is an Editorial Assistant for THE NIBBLE.

Silvermark Toss & Chop
Chopped Salad Is Now Easier Than Ever

CAPSULE REPORT: We love chopped salads, but who wants to do all that work, minutely chopping lettuce and tomatoes and cubing ham and turkey with a conventional knife? The Silvermark Toss & Chop makes the creation of a chopped salad so much fun, friends and family will be asking to do the work.

Overview
Salads are a great way to inject vegetables into your diet while enjoying interesting food combinations and flavors. You can add not just vegetables, but different meats, cheeses, seafood, eggs, pickles, olives and fruits (citrus, dried fruits, tropical fruits, stone fruits). With everything in much smaller pieces, the flavors meld in more exciting ways than in your conventional basic tear-and-toss salad. Each bite is that much more complex and flavorful.
Chopped salad in particular is a popular menu item wherever it is served—just go to the famed 21 Club in New York City for lunch to see how many people are enjoying it. One reason is that it's too hard to make at home; few of us have those knife skills (think Benihana chef), and that's why it's not served at as many restaurants as we'd like, either. Wendy Silver was frustrated, too, so she invented the Toss & Chop. It's no gimmick, but a brilliant tool, designed to quickly chop the salad of your dreams, right in the serving bowl.
How To Use It
We spent weeks enjoying a daily Toss & Chop lunch. Each day we voted on different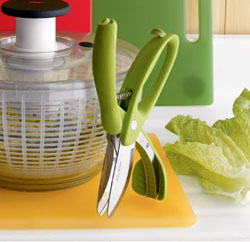 ingredients, and put the Toss & Chop to work. It handles like a pair of kitchen shears, but has double the number of blades: two parallel blades spaced about half an inch apart on the top half, with two more on the bottom. Additionally, the bottom blades are cupped by a scoop, so it's easy to gather up a new batch of food to be chopped. Whether you're chopping lettuce and cabbage or solid, slippery items like tomatoes and eggs, the Toss & Chop makes you a pro.
The family will enjoy eating more salads—and in our opinion (and that of chopped salad fans everywhere), the salads taste better. But salads aren't the only thing you can make with the Toss & Chop. Beyond chopping leafy vegetables, there are lots of meal ingredients and even complete dishes that require fine chopping.
Easily cut up bread or breadsticks for croutons
Chop fruit for compotes and pie fillings
Create toppings for pizza
Make luscious egg, tuna and ham salad
Make a quick task of time-consuming and messy recipes like salsa, pico de gallo and chunky dips
Instead of using multiple knives, bowls and cutting boards, now you can chop everything in one big bowl using just one tool.
The Toss & Chop is made of high-quality, heat-treated stainless steel with micro-serrated edges that will never require sharpening. It fits both left and right-handed chefs and is available in your choice of light green or dark gray. It's a great gift item for your favorite cook, salad lover, vegetarian or perpetual dieter.
SILVERMARK
TOSS & CHOP

Toss & Chop
$21.99
Toss & Chop Gift Set
Includes Toss & Chop And
Recipe Book
$24.99

Purchase online* at SilverMk.com

*Prices and product availability are verified at publication but are subject to change. Shipping is additional. These items are offered by a third party and THE NIBBLE has no relationship with them. Purchase information is provided as a reader convenience.


Related Food Videos:



For more food videos, check out The Nibble's Food Video Collection.


© Copyright 2005- 2015 Lifestyle Direct, Inc. All rights reserved. Images are the copyright of their respective owners.