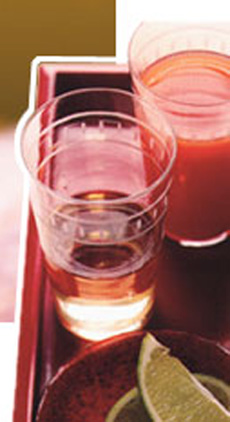 A tequila Bloody Mary, or Bloody Maria, from Iron Chef Rick Bayless. The recipe is in our
Best Bloody Mary Recipes
article. Photo courtesy of Frontera Foods.
KAREN HOCHMAN likes her Bloody Mary with extra horseradish and Worcestershire sauce; lime instead of lemon. She also enjoys a Virgin Mary and an Macho Mary, a.k.a. vodka neat.
December 2005
Updated January 2009

The Bloody Mary
Page 2: The Real History Of The Bloody Mary
This is Page 2 of a two-page article. Click on the black links below to visit Page 1.
The Updated Story Of The Bloody Mary
More recent research has updated this story. Eric Felten reporting in The Wall Street Journal,* comes up with a more accurate version. Barry Popick, a consulting editor of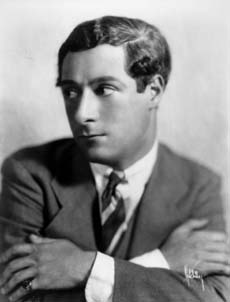 the Oxford Encyclopedia of Food and Drink in America, did some sleuthing that found earlier references crediting the origin of the Bloody Mary to comedian, songwriter and movie producer George Jessel, the "Toastmaster General of the United States" (photo at right). In the 1950s Jessel even appeared in Smirnoff vodka ads declaring himself the inventor, and wrote the story of how he invented it in his 1975 autobiography (to clear his head after a night of drinking). Since Jessel was also a famous self-promoter, many doubted the claim; but Popick found this 1939 mention in Lucius Beebe's New York Herald Tribune column: "George Jessel's newest pick-me-up which is receiving attention from the town's paragraphers is called a Bloody Mary: half tomato juice, half vodka."
Alas, the column does not provide a clue as to who Bloody Mary might be. Since "South Pacific" had yet to be published, perhaps Mary, Queen Of Scots might be the honoree after all! She has a shot, until another column is uncovered with details to the contrary, by some intrepid cocktail researcher.
*Saturday/Sunday March 3-4, 2007. Photo of George Jessel, inventor of the Bloody Mary, from the Library of Congress.
In a 1964 interview in The New Yorker, Petiot qualified his claim. "I initiated the Bloody Mary of today," he declared. "George Jessel said he created it, but it was really nothing but vodka and tomato juice when I took it over....I cover the bottom of the shaker with four large dashes of salt, two dashes of black pepper, two dashes of cayenne pepper and a layer of Worcestershire sauce." He added lemon juice, two ounces each of vodka and tomato juice and some cracked ice; then, "shake, strain and pour." The current evolution, including much higher percentage of tomato juice, horseradish and a celery stick, must be credited to someone who has yet to step forth to claim it.
Now, visit our:
© Copyright 2005-2015 Lifestyle Direct, Inc. All rights reserved. Images are the copyright of their respective owners.