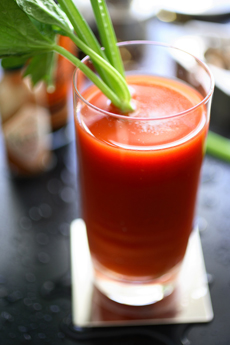 From a single concept decades ago, many variations have sprung. The one common ingredient: tomato juice. Photo © Mario | Fotolia.
KAREN HOCHMAN likes her Bloody Mary with extra horseradish and Worcestershire sauce; lime instead of lemon. She also enjoys a Virgin Mary and an Macho Mary, a.k.a. vodka neat.
December 2005
Updated January 2009

Bloody Mary: Variations On A Theme
Page 1: Classic Bloody Mary Recipes
This is Page 1 of four pages of Bloody Mary recipes. Click on the black links below to visit other pages.
Set up a Bloody Mary Bar at your next party and try several!
Bloody Mary Recipes: Thoroughly Modern Marys
Today, there are dozens and dozens of variations on the Bloody Mary recipe. Change the alcohol (hot pepper vodka, aquavit, tequila, sake), the seasoning (lime, clam juice, chipotle), the garnish (celery stalk, rosemary, cornichon), add an extra alcohol (pernod, absinthe) and you have a Bloody Shame, a Bloody Viper, a bloody long list of drinks. We've included enough for you to set up a Bloody Mary bar and have a heck of a party. Any of the recipes can be turned into a Virgin Mary—just leave out the alcohol.
RECIPE NOTE: Some food writers will admonish that you can only make a good Bloody Mary from top vodka. We add what no one else has suggested: you can only make a good Bloody Mary from excellent tomato juice, which is by volume the largest component of the drink. Thus, we conducted a tasting of the available brands of juice. We started with supermarket brands and found that the difference between them was significant; and the difference between the best supermarket brand and the best specialty brand we found at Whole Foods was even more significant. The theory that "so much spice is going into it, the juice doesn't matter" is fallacious: if that were true, it would be true for the vodka as well.
All recipes that follow are for one cocktail. To make drinks by the pitcher, you'll need 32 ounces of tomato juice and 1-1/2 cups of alcohol. One jar of Tabasco sauce, Worcestershire sauce, and horseradish should get you through the party; and the number of lemons, limes, and other accents will depend on which recipe(s) you're serving.
If you don't have a jigger, 2 ounces = 1/4 cup.
The Updated Classic Bloody Mary Recipe
Today's classic has evolved even further beyond the original recipe flavored with pepper, cayenne, Worcestershire sauce, lemon and Tabasco. Here, horseradish bringing wondrous flavor dimension, texture and more heat. No one knows to whom credit should be given for the addition of the celery stalk, but we are grateful for the crunch.
*Absolut, which has had a memorable print ad campaign, is pretty low down on the scale in rankings at competitions. The winners at last year's World Beverage Championships in the Ultra-Premium category, were, in order of ranking: Level, 42 Below, Chopin, Vox, Turi, Grey Goose and Belvedere.
Combine the first eight ingredients, mix well; pour over ice in a tall glass and garnish with the celery stalk.
Pete Petiot's "Original" Bloody Mary
Pete Petiot is the bartender who claimed to have invented the Bloody Mary at Harry's American Bar in the Roaring 20's. Credit actually goes to comedian George Jessel in the 1950s—read the history of the Blood Mary. But Petiot, who became head barman at the St. Regis Hotel in New York City, served this recipe:
Shake with ice and strain into a short glass.
Different Alcohol
If your favorite spirit isn't vodka, try one of these:
Ruddy Mary: Replace vodka with gin.
Red Eye: Replace vodka with beer, also replacing tomato juice with Clamato
(see also Michelada Clementina)
Snowball, Bloody Snowball: Replace vodka with Bourbon
Virgin Mary: Made without alcohol
See International Marys for more variations.
Continue To Page 2: Bloody Bull, Bloody Mariner & More
© Copyright 2005-2015 Lifestyle Direct, Inc. All rights reserved. Images are the copyright of their respective owners.