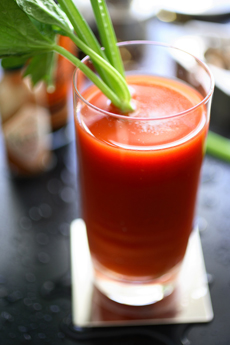 Substitute tequila in your Bloody Mary, and you've got a Bloody Maria. Photo © Mario | Fotolia.
KAREN HOCHMAN likes her Bloody Mary with extra horseradish and Worcestershire sauce; lime instead of lemon. She also enjoys a Virgin Mary and an Macho Mary, a.k.a. vodka neat.
December 2005
Updated January 2009

Bloody Mary Recipe Variations
Page 3:

South-Of-The-Border Mary Recipes

This is Page 3 of four pages of Bloody Mary recipes. Click on the black links below to visit other pages.

Americans love Mexican food. Here are two Mexican-inspired Marys—made with tequila!
Bloody Maria
This recipe, called a "Maraca Bloody Mary" by Iron Chef Rick Bayless of Chicago's Topolobampo and Frontera Grill, is a Bloody Mary made with tequila instead of vodka, plus, salt and lime. This recipe uses Chef Bayless' Maraca Bloody Mary Mix, which is a tomato juice base with perfect proportions of seasoning. If you can't find the Frontera Grill brand, you can order it from Frontera at 1.800.559.4441 ext. 120, or try other mixes with chiles, such as Demitri's Chiles & Peppers Mix (a NIBBLE Top Pick Of The Week).
Ingredients
4 ounces (1/2 cup) Maraca Bloody Mary Mix
2 ounces (1/4 cup) tequila
1 tablespoon Frontera Red Pepper Hot Sauce (or other hot sauce)
2 lime wedges
Salt and pepper
Directions
Mix Maraca Bloody Mary Mix with tequila. Season with salt and pepper to taste.
Rub the edge of a tall glass with a lime wedge. Then dip in salt.
Fill the glass with ice, then pour in the Bloody Mary mixture. Garnish with a fresh lime wedge.
This recipe also can be made with vodka or gin; or as a Virgin Mary without alcohol.
Chipotle Maria
Ending with a second South-of-the-Border theme, here is a variation of the Chipotle Mary, this time using tequila instead of vodka.
1-1/2 ounces tequila
3 ounces top-quality tomato juice
1 squeeze lemon juice
1/2 teaspoon Worcestershire sauce
2-3 drops Tabasco Chipotle Pepper Sauce
Garnishes: celery, cornichons, cocktail onions, blue cheese
Shake all ingredients with ice and strain into an old-fashioned glass over ice cubes. Add salt and pepper to taste. Garnish with celery and skewered cornichons, cocktail onions and a cube of blue cheese.
Michelada Clementina or "Chelada"
Quite a departure from the usual Mary!
3 ounces cold Mexican beer
3 ounces chilled tomato juice
Several dashes Worcestershire Sauce, Maggi Sauce and Tabasco Pepper Sauce

Pour into a tall glass and stir.
Continue To Page 4: International Mary Recipes
© Copyright 2005-2015 Lifestyle Direct, Inc. All rights reserved. Images are the copyright of their respective owners.