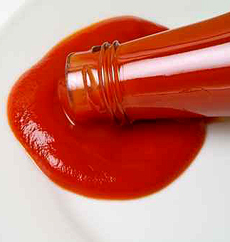 All ketchups are hardly created equal, as you'll see in our review of 42 different brands. Photo © Claudio Beldini |Fotolia.
STEPHANIE ZONIS is a Contributing Editor at THE NIBBLE.
October 2007
Updated November 2008

A Fresh Look At Ketchup
Page 3: How Ketchup Is Manufactured
This is Page 3 of a nine-page article. Click on the black links below to visit other pages.
How Ketchup Is Manufactured
Large-scale ketchup making begins with the selection of tomatoes. Enotes.com asserts that only tomatoes superior in color, flavor, texture and yield are used. Consistency is of great importance, too, as consumers want their ketchup to be the same, bottle after bottle. Tomatoes are harvested mechanically, graded, sorted, washed and chopped. They're precooked in stainless steel vats, a process called "scaling," which preserves them and eliminates any bacteria.
Continue To Page 4: Ketchup Today
© Copyright 2005- 2015 Lifestyle Direct, Inc. All rights reserved. Images are the copyright of their respective owners.