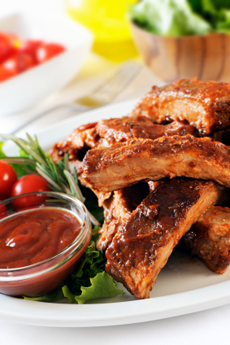 A great ketchup is a superior condiment. Photo by E.Z. Foryu | IST.
STEPHANIE ZONIS is a Contributing Editor at THE NIBBLE.
October 2007
Last Updated August 2010

A Fresh Look At Ketchup
Page 7: Tomato Ketchup Reviews ~ H To K
This is Page 7 of a nine-page article. Click on the black links below to visit other pages.
*Favorite Product ‡Organic Product †Kosher Product
*‡Happy Girl Kitchen Company Certified Organic Heirloom Tomato Country Ketchup (photo at right). Aroma: nose-filling tomato aroma. Taste: Intense tomato with the sweetness of the fruit predominant, just a trifle of sharpness. Neither seeds nor skins are filtered out of this ketchup. A favorite. No nutrition information. First ingredient: organic heirloom tomatoes. Sweetener: honey. No date code.
Continue To Page 8: Tomato Ketchup Brands L To Z
© Copyright 2005- 2015 Lifestyle Direct, Inc. All rights reserved. Images are the copyright of their respective owners.