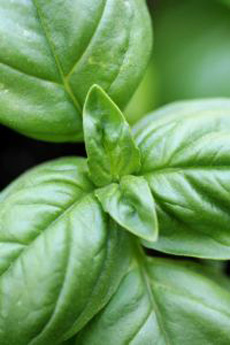 Fresh basil photo by Pat Connor.

Recipe: Infused Basil Oil
Why Buy It? Make Your Own!
This recipe is part of Roasted Organic Golden & Red Beet Stacks With Fresh Herbed Goat Cheese. Of course, it can be used anywhere you want a touch of basil-infused oil.
Freshly-infused basil oil is heavenly. Always use organic ingredients when you can, advises Laura Klein, an organic chef and publisher of OrganicAuthority.com. This recipe needs to be made at least one day in advance to intensify the color. Not only are they better for you, they usually taste better, too.
Ingredients
1 cup packed fresh organic basil leaves
¼ teaspoon kosher or sea salt, plus ¼ cup of salt for every quart of water used
to blanch the basil leaves
½ cup olive oil
Directions
Bring a large pot of water to a boil with salt according to the above proportions. Blanch the basil leaves for one minute in boiling water. Remove leaves from water (use a strainer), drain well and squeeze out as much excess liquid as possible. Place the basil leaves in a food processor or blender with ¼ teaspoon salt and oil and blend until smooth.
Remove the purée and store in a glass container. Refrigerate for at least one day to intensify the color.
Strain oil through a fine chinois* when ready to use. For ease of use in garnishing dishes, put into a small plastic squeeze bottle.
Chef's Note
The purée can be stored for up to one week. Once the oil is strained, it will begin to discolor in about two days. You can also store the oil in the freezer.
*Chinois
The chinois, or Chinese strainer, is a conical-shaped sieve ideal for puréeing cooked fruits and vegetables. It has numerous other uses as well.
It's commonly used to make silky-smooth foods like custards and jellies as well as in the preparation of sauces, soups and stocks. The tapered wooden pestle acts as a food press to squeeze juice from raspberries or pulp from squash and pumpkins, while leaving fibers and seeds. The funnel shape directs the liquid to a bowl or pot. The stand allows gravity to do the work of straining while the cook tends to other tasks.

This stainless steel chinois, stand and wooden pestle are dishwasher-safe. $41.90. Click on the link to purchase. Price and product availability are verified at publication but are subject to change.
Recipe © copyright Laura Klein. All other material © copyright 2005- 2015 Lifestyle Direct, Inc. All rights reserved. Images are the copyright of their respective owners.